Meet Chuchu, our guest travel blogger. Let's indulge in the ultimate villa experience in Chiang Mai for a relaxing vacay with her.
Travel Trends in the Post-Pandemic Era
In the post-pandemic era, the trend of travel has gradually evolved into a "living in a new country" mode. This stay in Chiang Mai combines relaxation and stress relief with a natural environment at Thantara Resort. The resort consists of only 20 villas of the same type, each with its own private pool. The villas feature a king-size double bed, french windows, and a picturesque view of the fields. Who says only the sea can provide healing? In Chiang Mai, experience the tranquility of the countryside, and feel equally relaxed and rejuvenated.
Chiang Mai Thantara: Transportation and Geographic Location
Thantara Resort Chiangmai is not located in the bustling area near Chiang Mai Airport; it's approximately a 20-30 minute drive away. There are no convenience stores or shopping areas nearby, so make sure to bring snacks and drinks if you plan to return to the resort in the evening. The area has minimal traffic, and hailing a taxi by the roadside can be challenging. I recommend downloading Grab, which works similarly to Uber in Taiwan, for convenient transportation.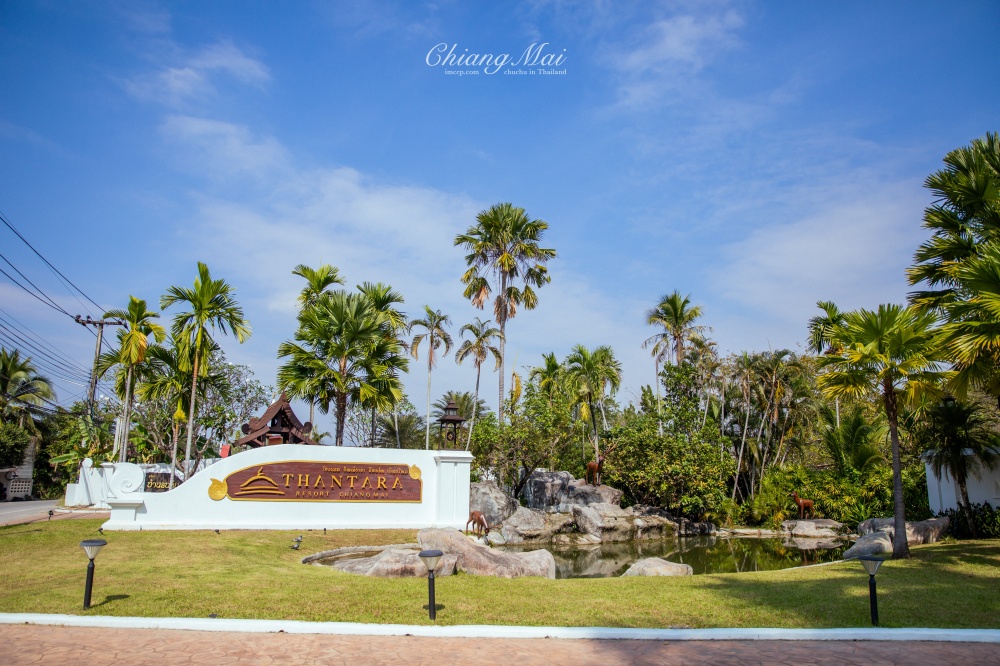 The resort provides golf carts for shuttle services. If the weather is pleasant, you can also choose to walk, although the golf cart ride takes about 2-3 minutes, whereas walking might take around 10 minutes.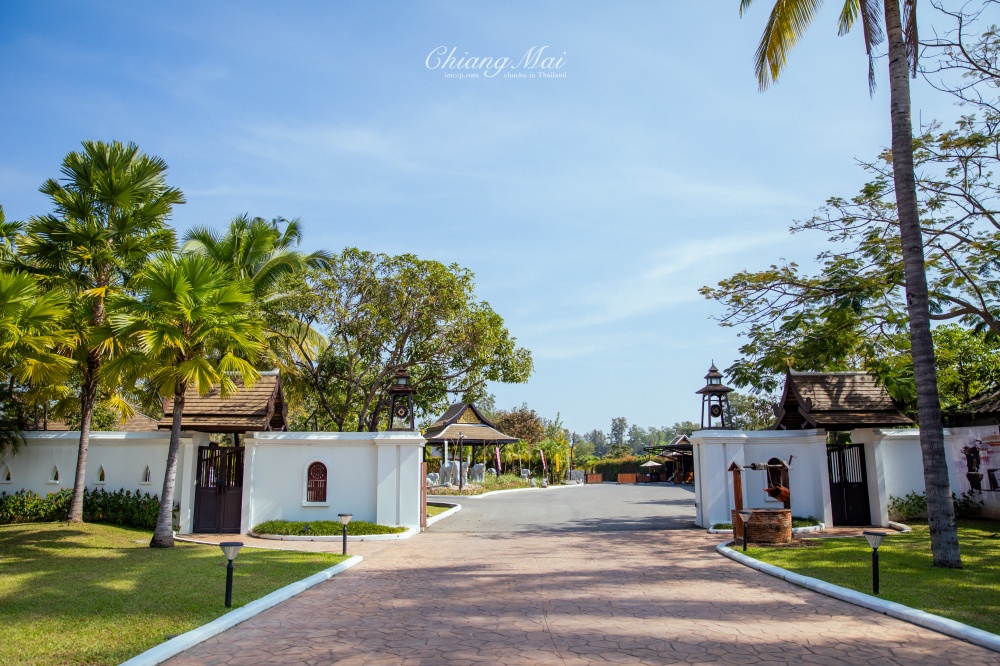 The magnificent golden-domed building serves as the hotel's lobby. The second floor is the restaurant, and the basement features a gym. Behind the building, there's a grassy outdoor seating area where you can enjoy BBQ dinners which is joyful.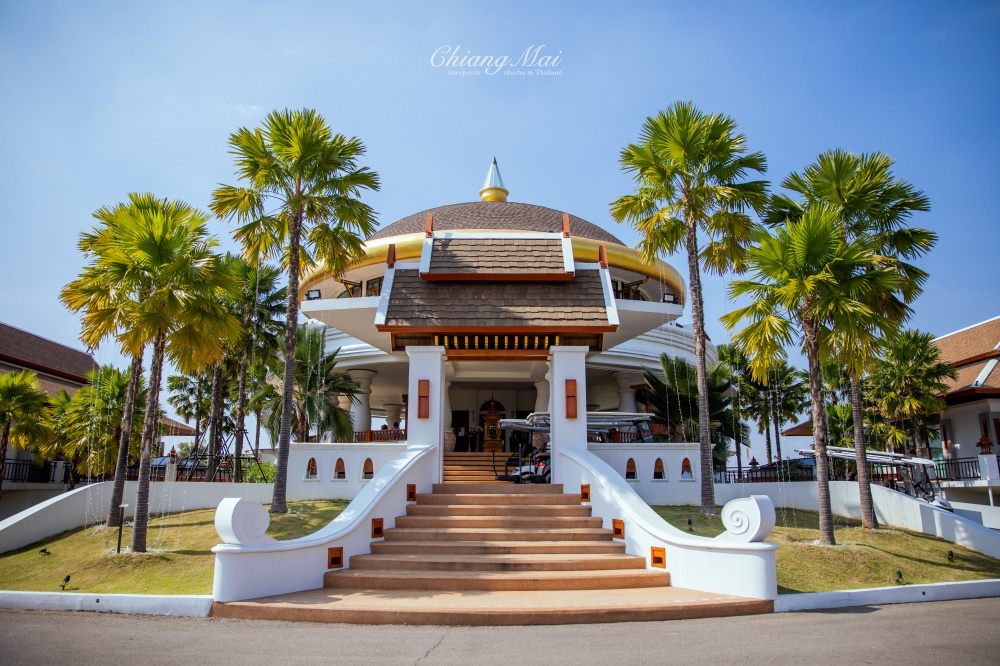 During our visit in December, the resort was beautifully decorated for Christmas. The nighttime ambience looked so different from the daytime scene, creating an illusion of being in a different season overnight.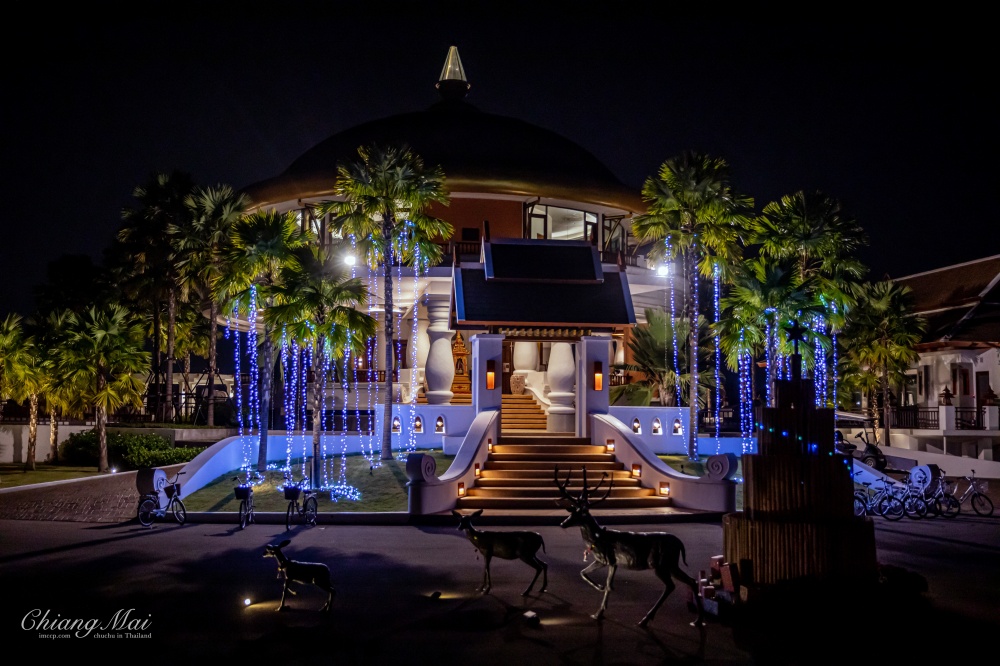 Upon check-in at the lobby, guests are welcomed with light refreshments and towels. The hotel staff provides a brief introduction to the surroundings and breakfast details. If you wish to book a BBQ dinner, you can inquire at the front desk.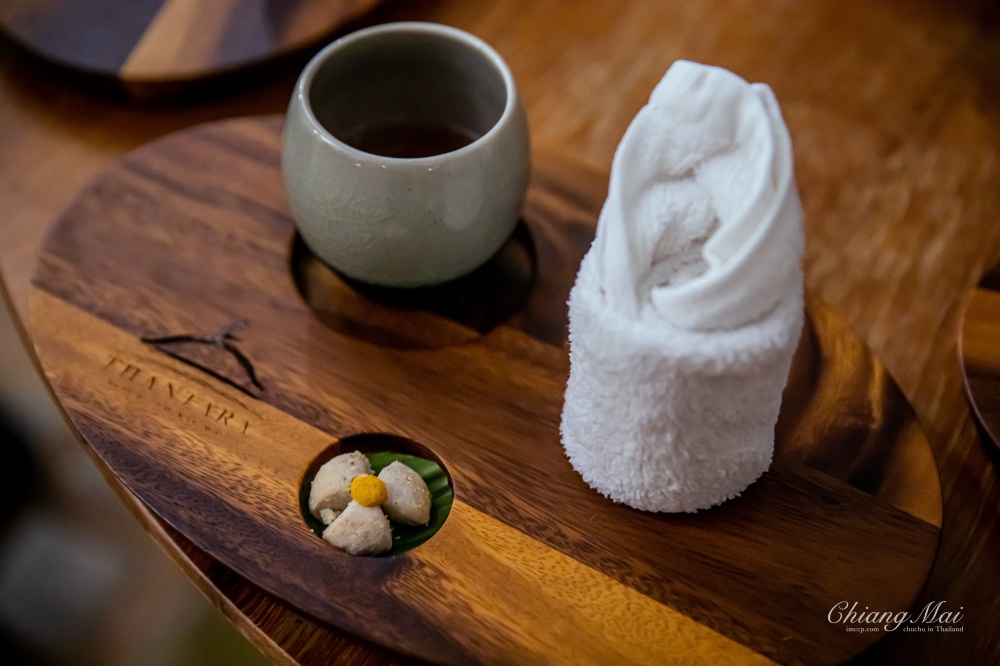 The resort offers golf cart shuttles to transport guests and their luggage directly to their room upon check-in.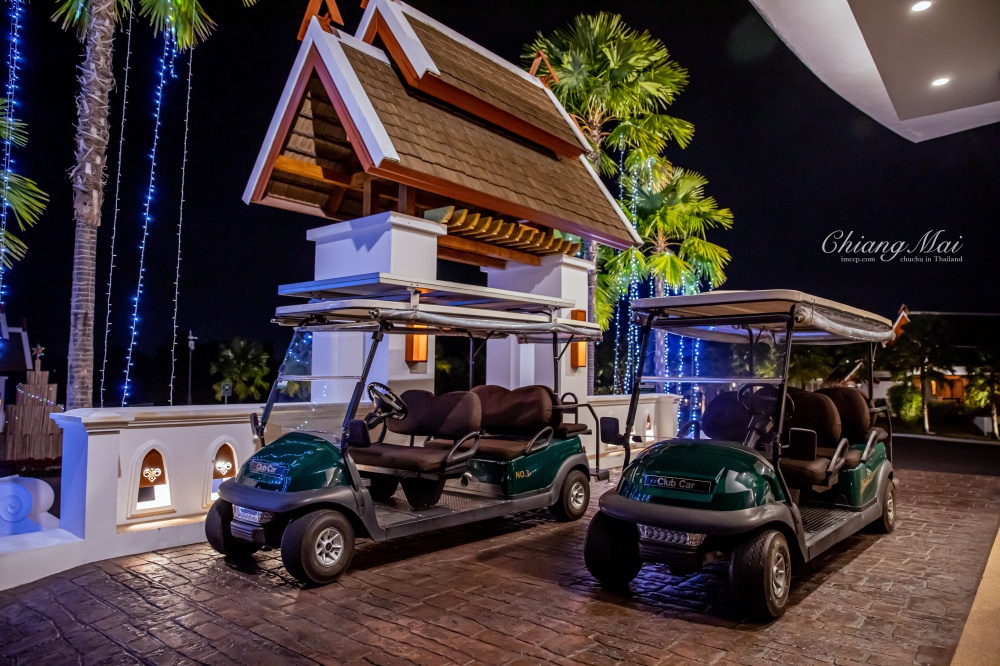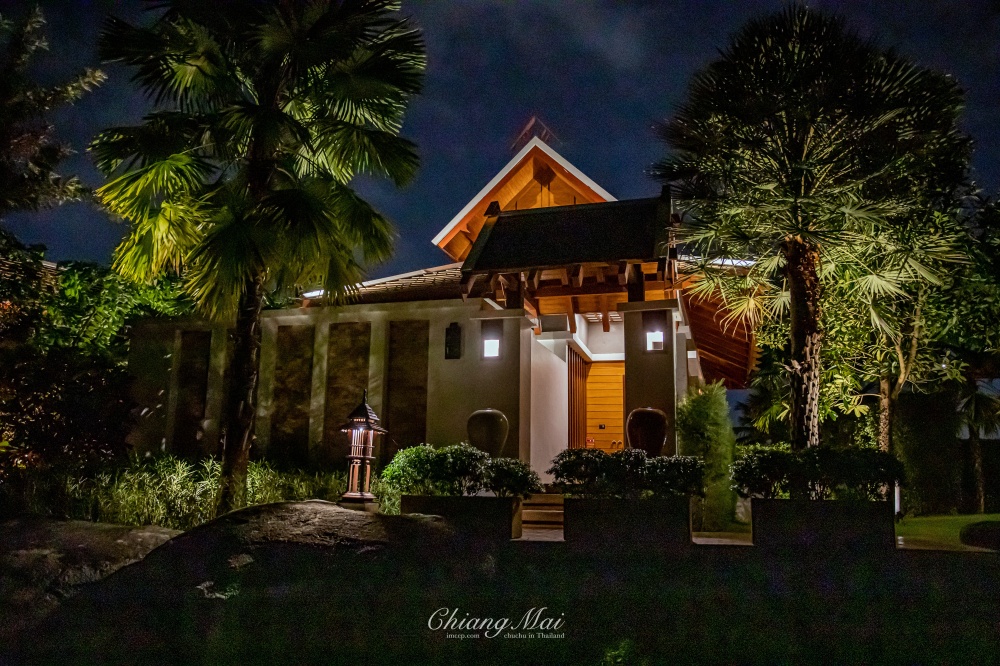 Thantara Resort Chiangmai offers only one type of accommodation, with minor variations in the shapes of the private pools. The interior facilities and furnishings are basically same for all villas.
From aerial shots, you can see that the resort features 20 individual villas, each with a private pool and a view of the paddy fields. Guests can enjoy quiet and comfortable stays in their own space, away from disturbances. It's a rare experience to appreciate the countryside scenery, providing a unique and charming atmosphere.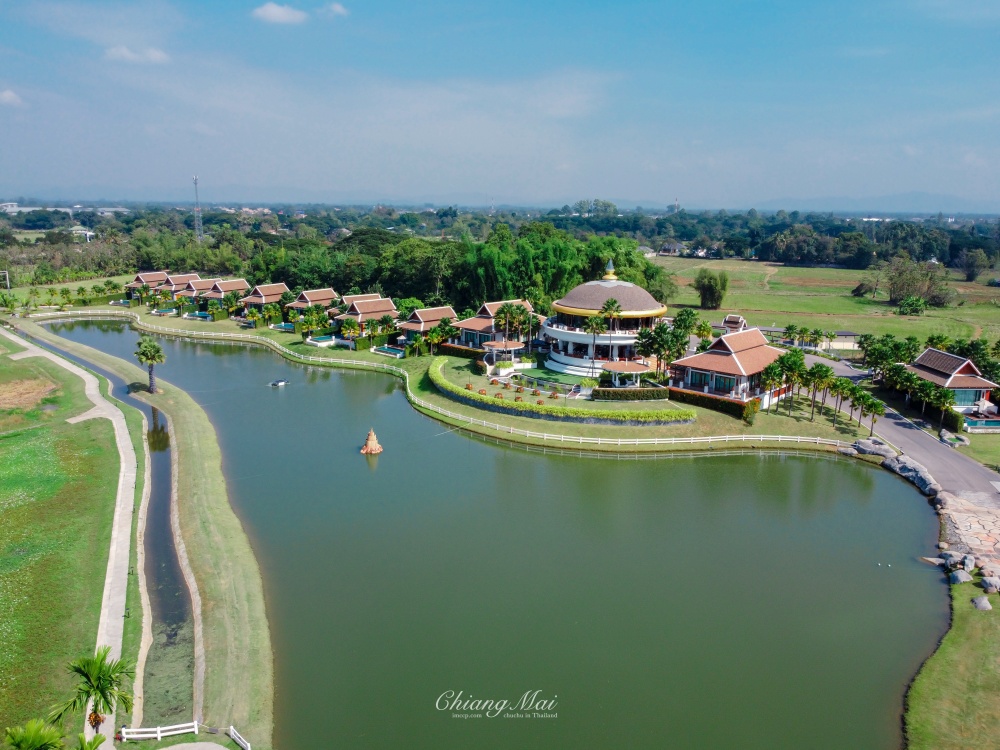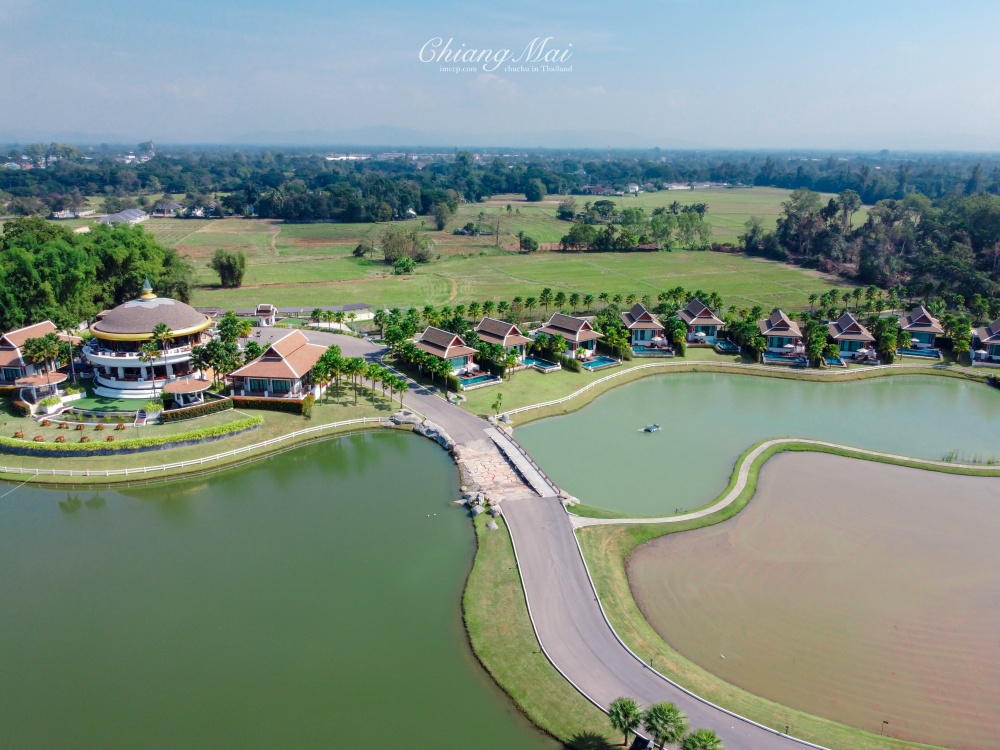 Chiang Mai Thantara villa room type:
The entire Villa is about 26 square meters, which includes garden, balcony, and a pool. In terms of accommodation space, it is comfortable and spacious. The interior is divided into a master bedroom, a dressing area (with wardrobe storage), a bathroom (with bathtub), and a private pool. The layout is square-shaped, with a high ceiling above, creating a sense of openness, which feels like you can see the sky when you are lying on the bed. It might be even more amazing if there's a skylight? (Ha)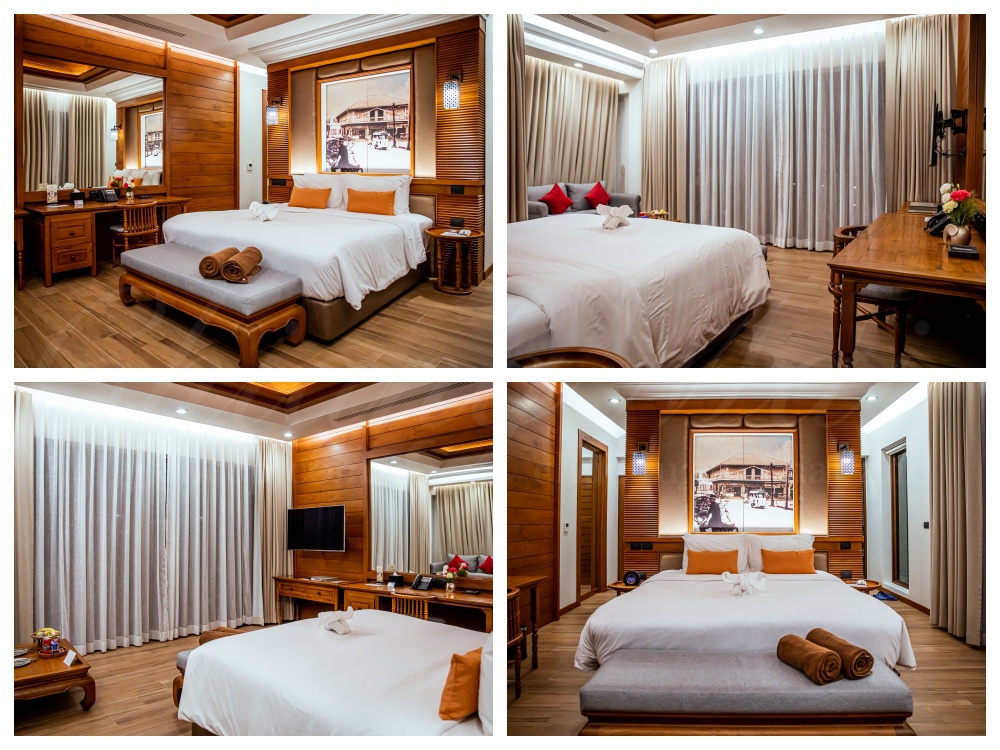 Behind the bedroom, there's a walk-in closet space, offering ample storage for two individuals, and even accommodating the luggage of a family of four with ease. It also provides bathrobes, slippers, and sandals, and the spacious platform above the fridge is highly practical for placing items.
They also offer woven straw hats and bags in the room, allowing guests to carry them around the resort and take good photos. So considerate!!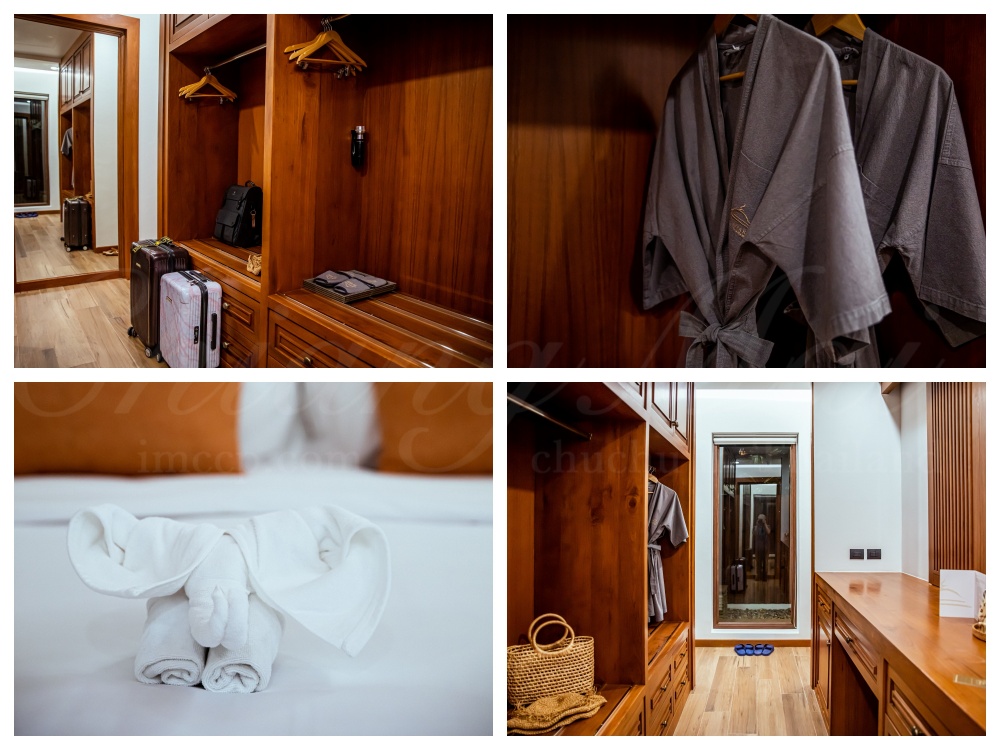 In the top left corner, complimentary snacks and fruits are provided.
In the top right drawer, there are tea bags and drip coffee packets.
In the bottom left drawer, you will find a hairdryer, mosquito repellent, and laundry service information.
At the bottom right is Mini Bar, which requires payment (the electric kettle and coffee maker can be used for free, but you'll be charged for the food consumed).
The bathroom space is incredibly spacious, featuring double sinks, a separate shower area, and a massive white oval bathtub. The interior design is modern and luxurious, giving off a chic vibe. For a moment, it feels like being in a high-end urban hotel.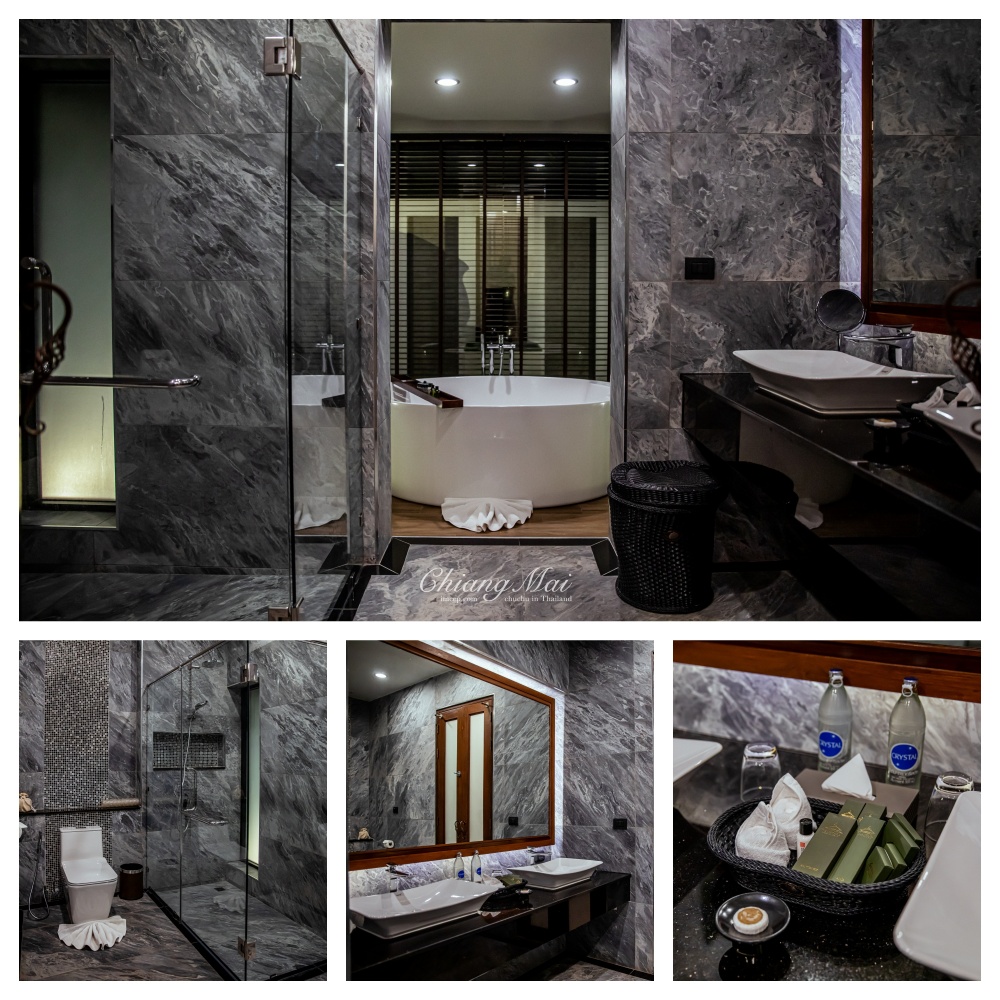 The storage box for accessories and the Bluetooth speaker clock on the bedside make your vacation as convenient and comfortable as at home.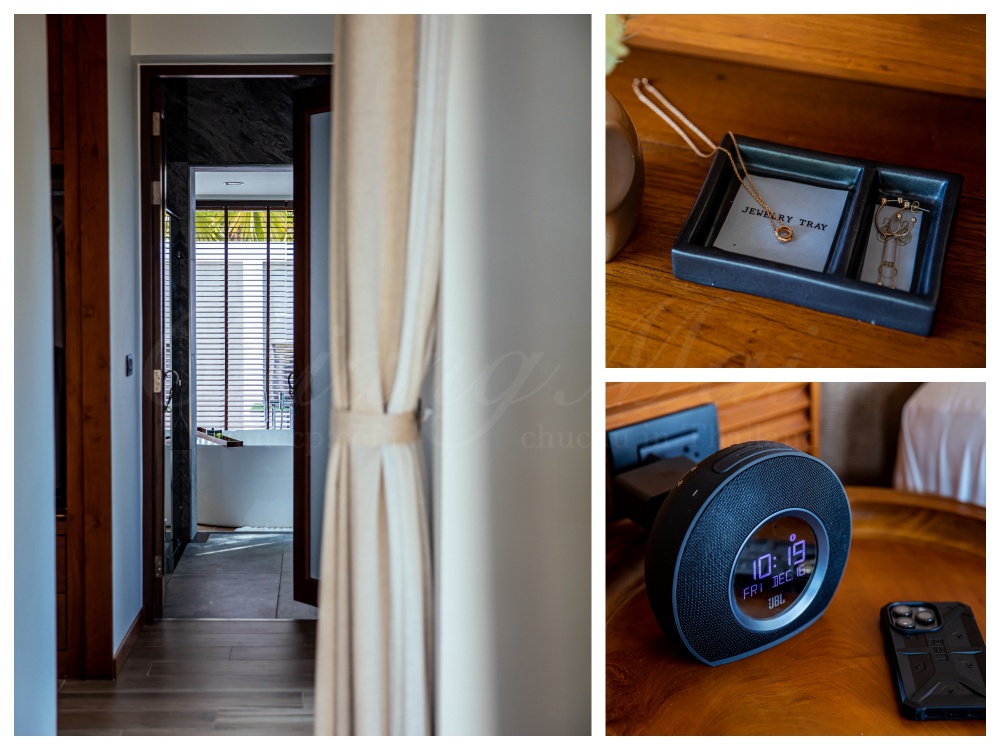 I think the layout of the room is impressive. The french windows allow the room to be brightly lit. It doesn't feel narrow and crowded visually.Guests can enjoy clear views of the surroundings without worrying about mosquitoes or weather conditions.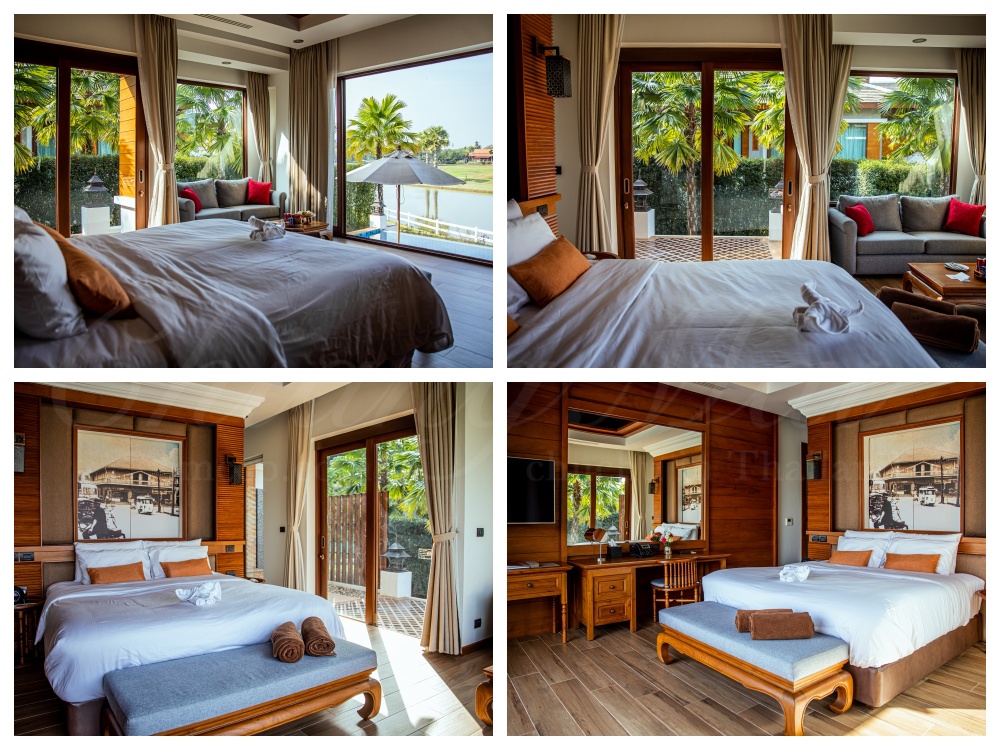 The wooden window above the headboard is another clever feature. When opened, it allows a view from the dressing area to the outside scenery, making the space even greater and expansive.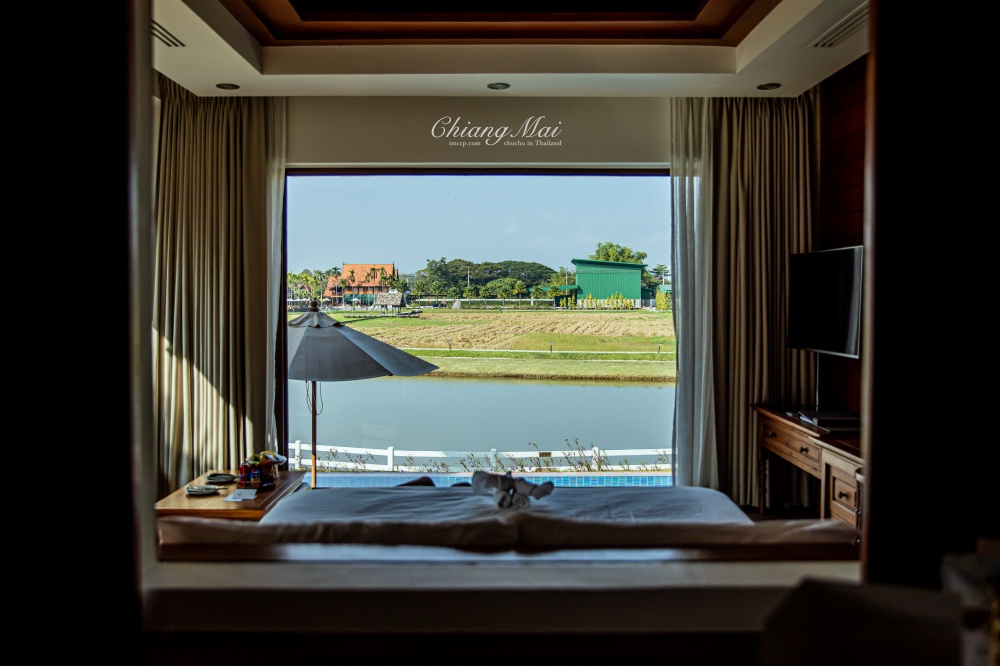 From the looks of this picture, I initially thought it was a bathroom in a luxurious mansion! They even left a section of frosted glass in the shower area, allowing natural light to come through. I really love this thoughtful design!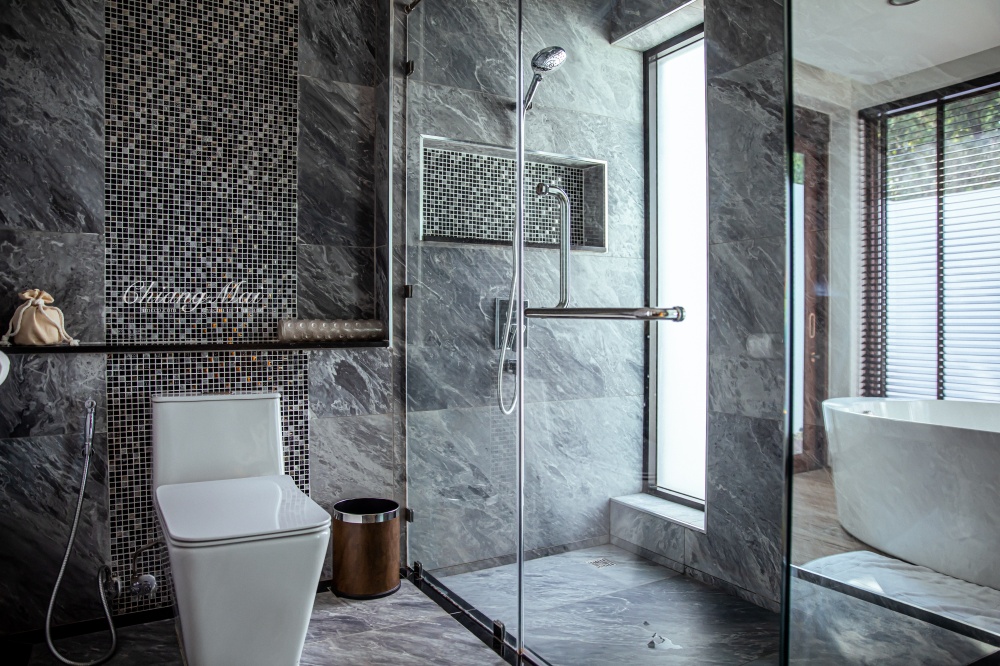 The bathtub area also has french windows on three sides with unlimited sunlight. The light and shadow shining into the room through the blinds is really beautiful~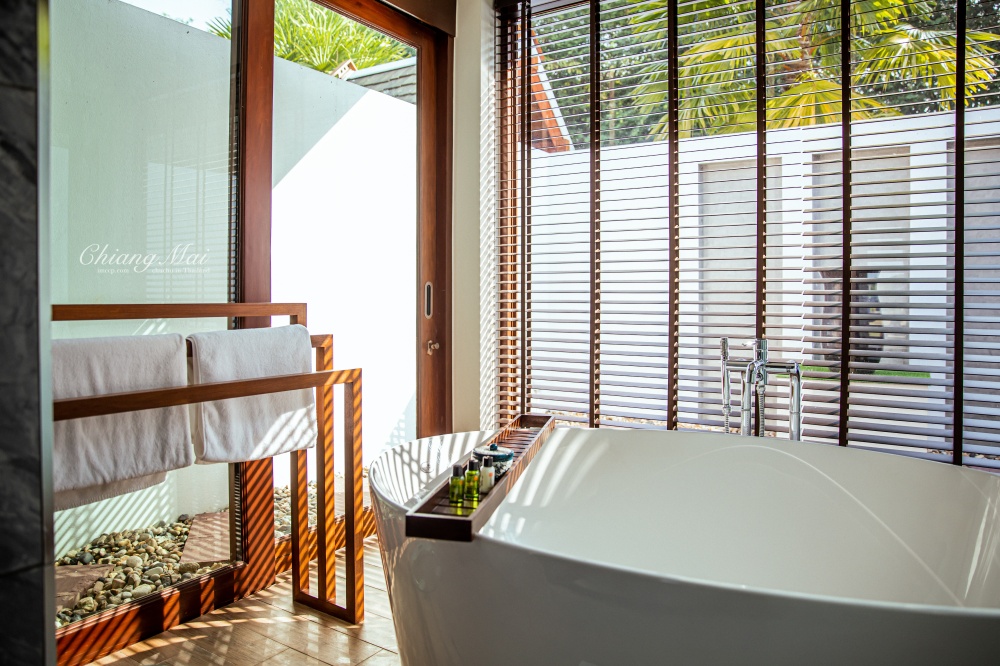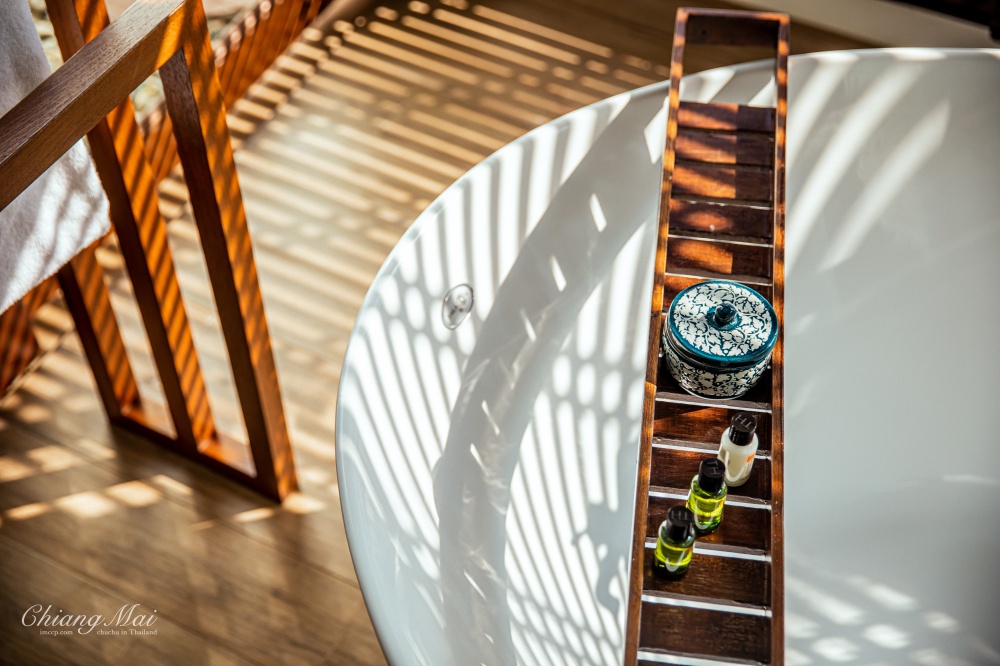 The resort provides bathing amenities from the renowned Thai fragrance brand THANN. The Thai-inspired scents of lemongrass and citronella are essential to the Thai ambiance. Even the bathing experience is authentically immersive and down-to-earth.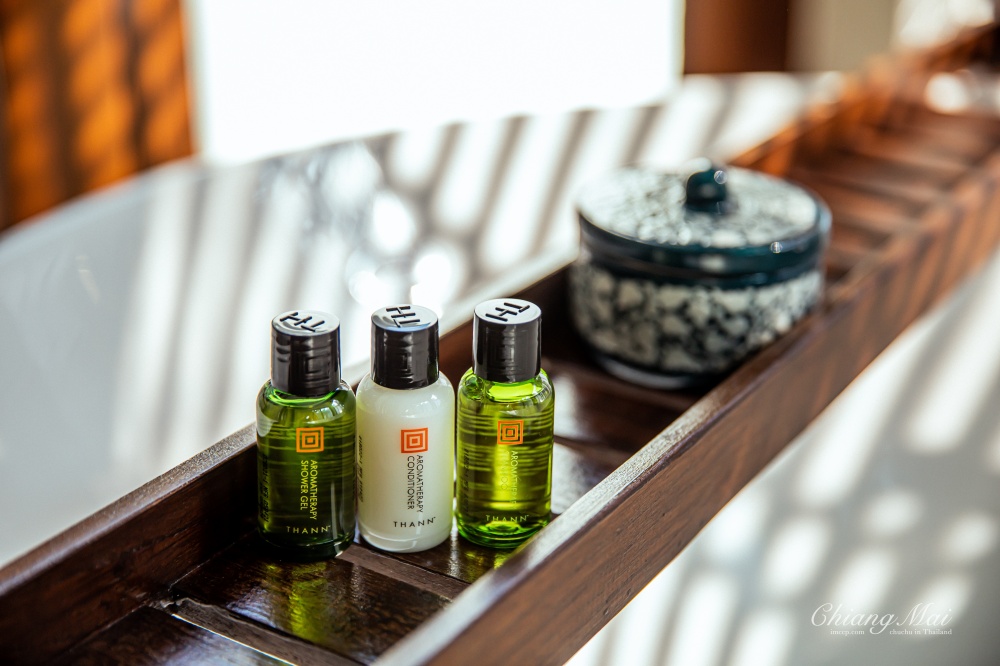 The large white oval bathtub is perfect for indulging in a bubble bath or a petal-filled soak. No need to bring your own supplies – you can purchase them at the hotel reception. They truly understand the current trend of travelers' photography styles; they even prepare the props for you!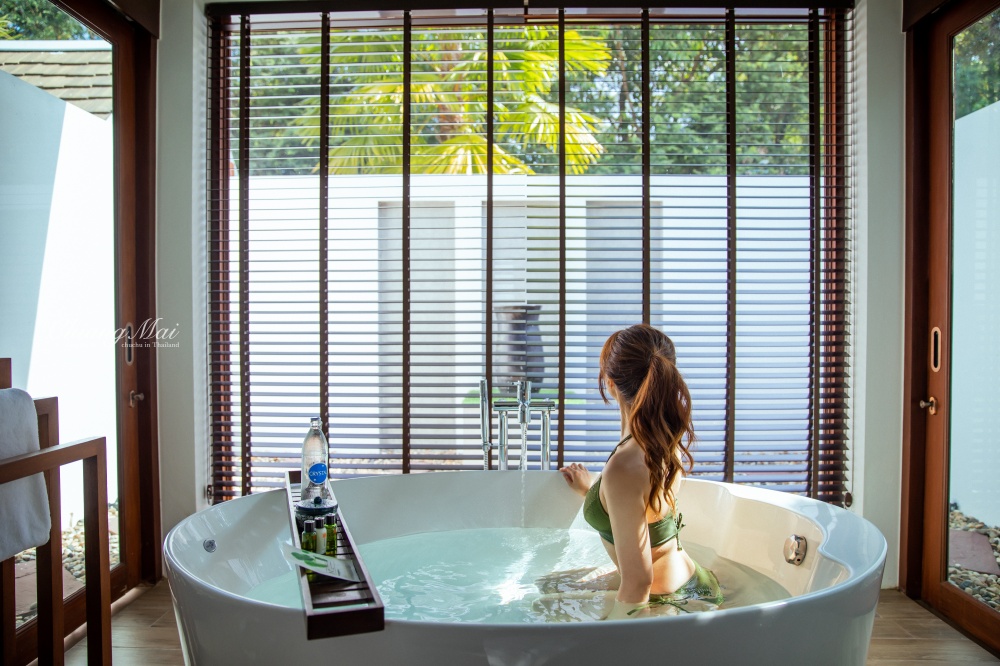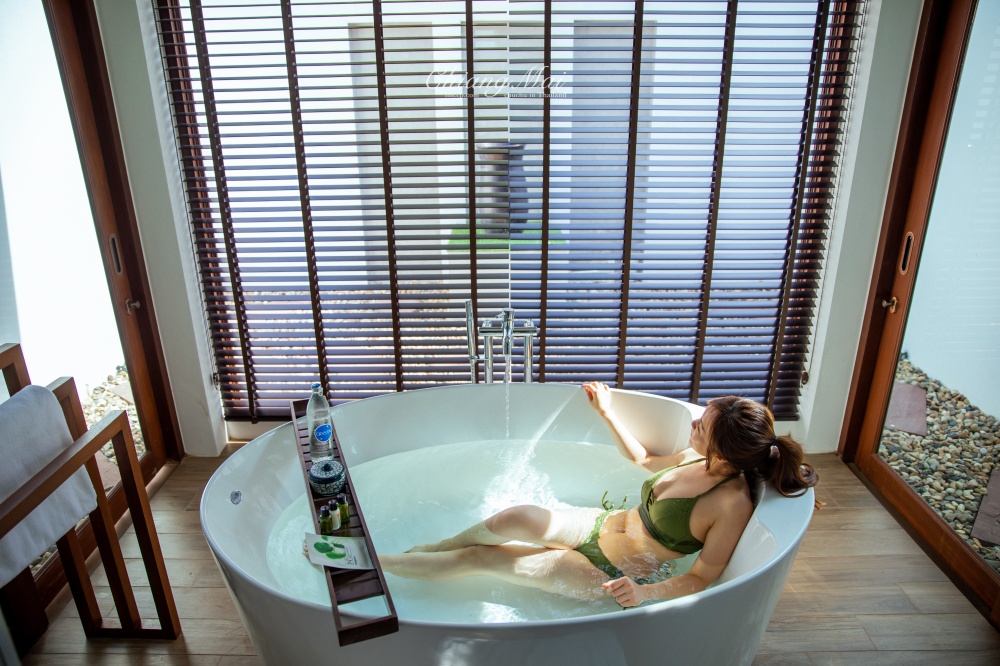 Chiang Mai Thantara Private Pool Villa
Having a private pool just outside the room is truly a dream home! Stepping out from the side door, there is a shower area nearby. After a swim, you can rinse off here. The room also provides dedicated towels for the pool. Everything is perfectly prepared and waiting for you to enjoy!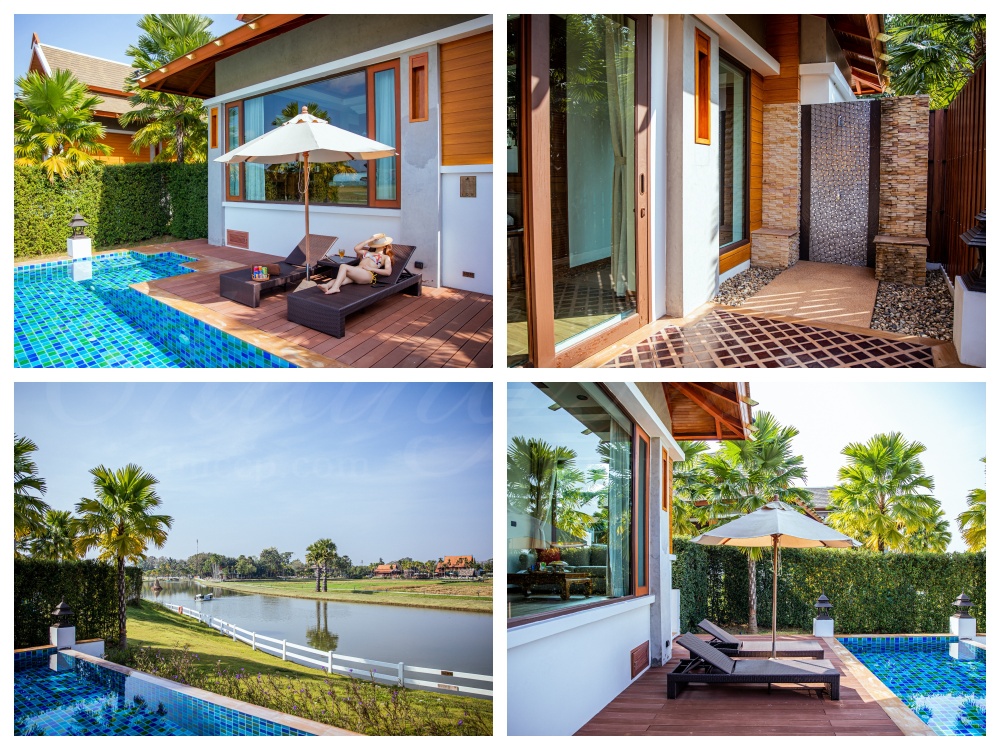 A private pool, delightful weather, and enchanting scenery – no need to rush for photos. You can leisurely enjoy your time here all morning. Every angle is so good for taking pretty photos. Love it!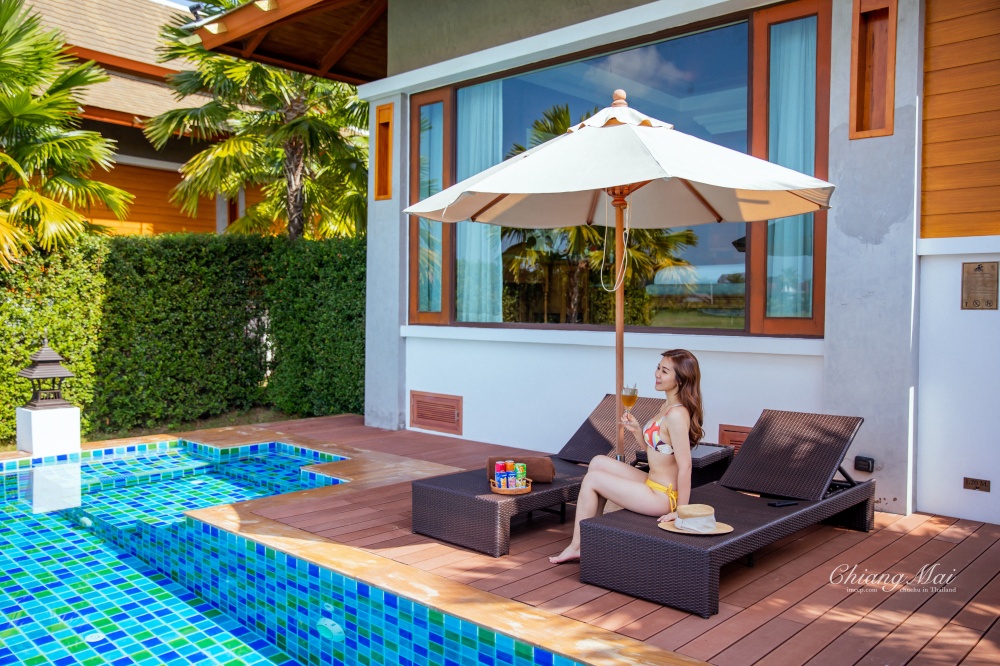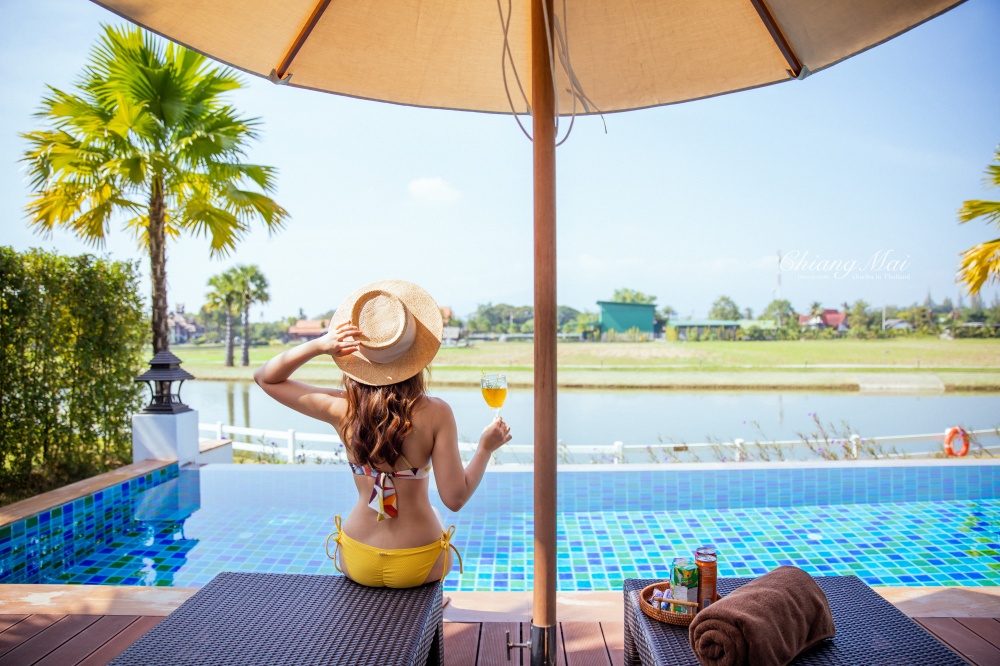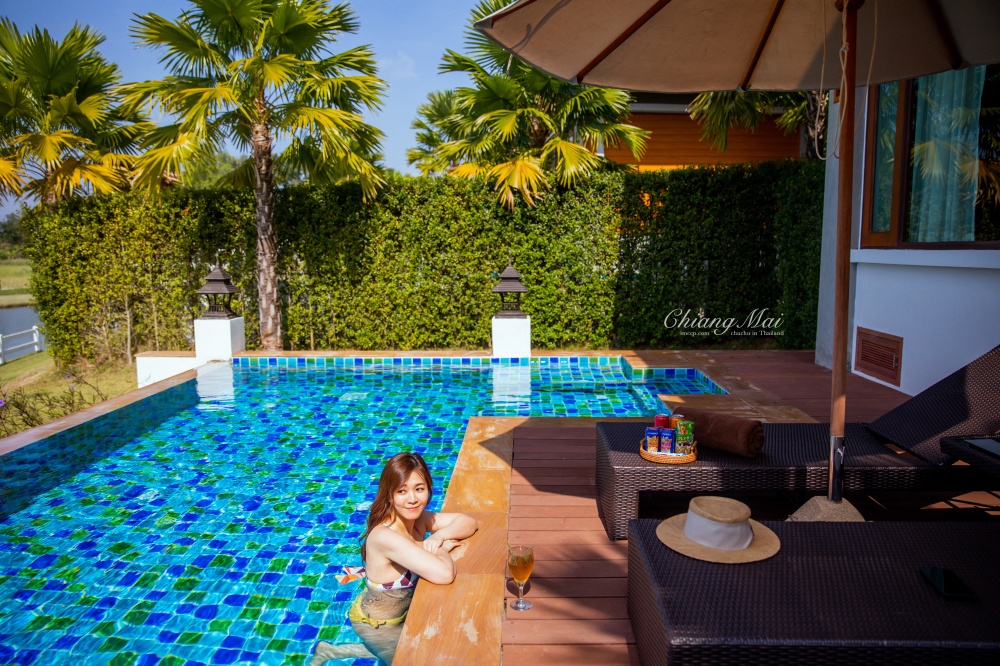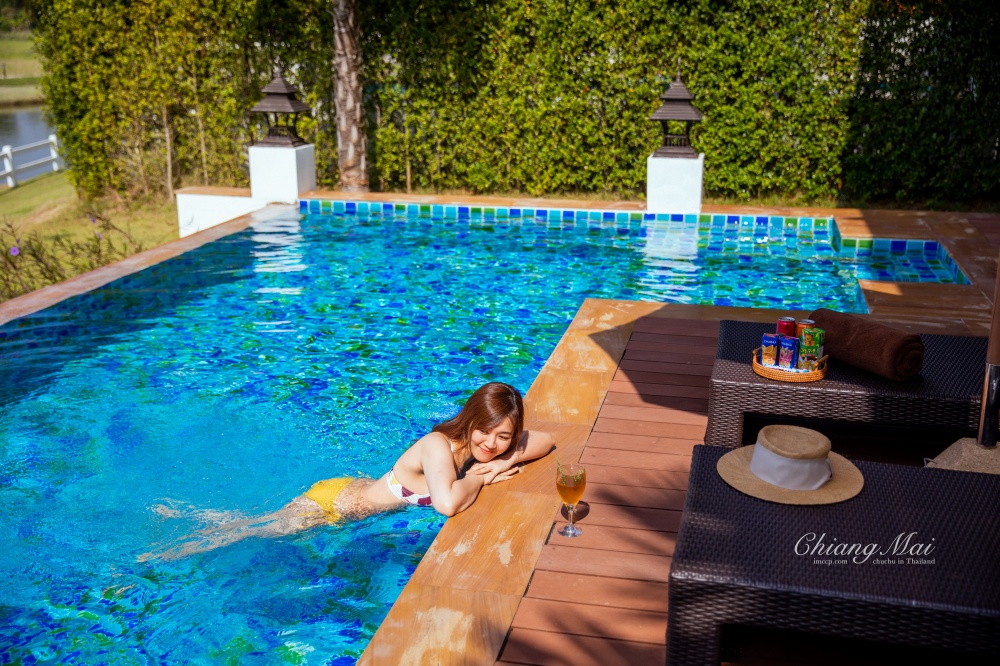 Finally seeing our villa during the day, having our own private space is amazing! Staying in a villa is essential for a relaxing and comfortable vacation.
I especially love the stair designs in front of some rooms, following the natural terrain. It feels like the rooms are built on small hills. Every time I return to the room, I can't help but feel excited. This kind of design is something I usually associate with foreign countries, and it's rare to find such in Taiwan.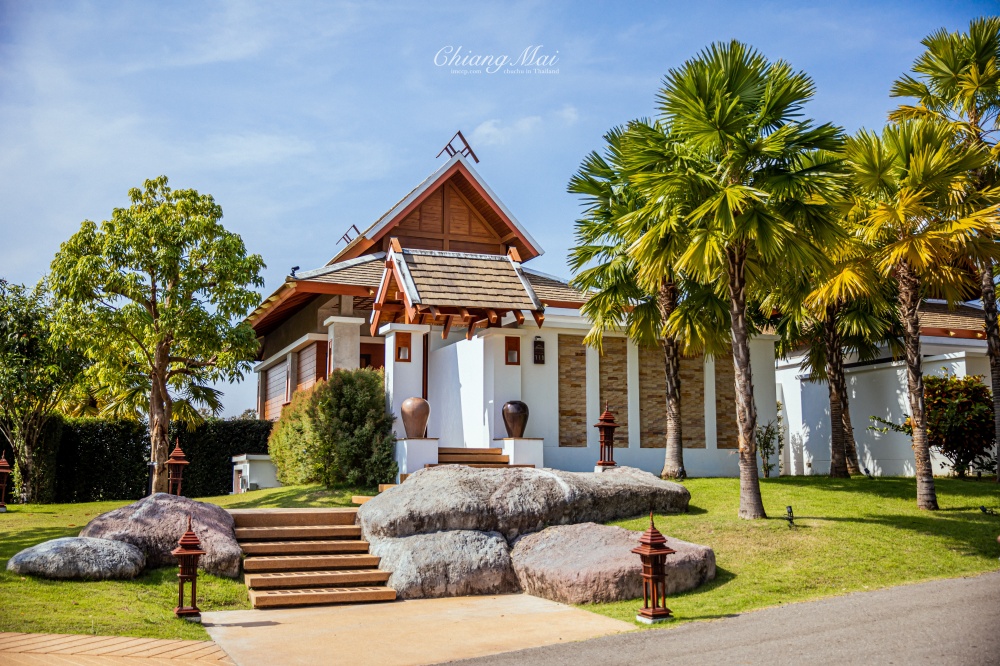 It's a delightful surprise to come across cats basking in the sun and stretching lazily in various corners. Having cats around definitely adds to the charm!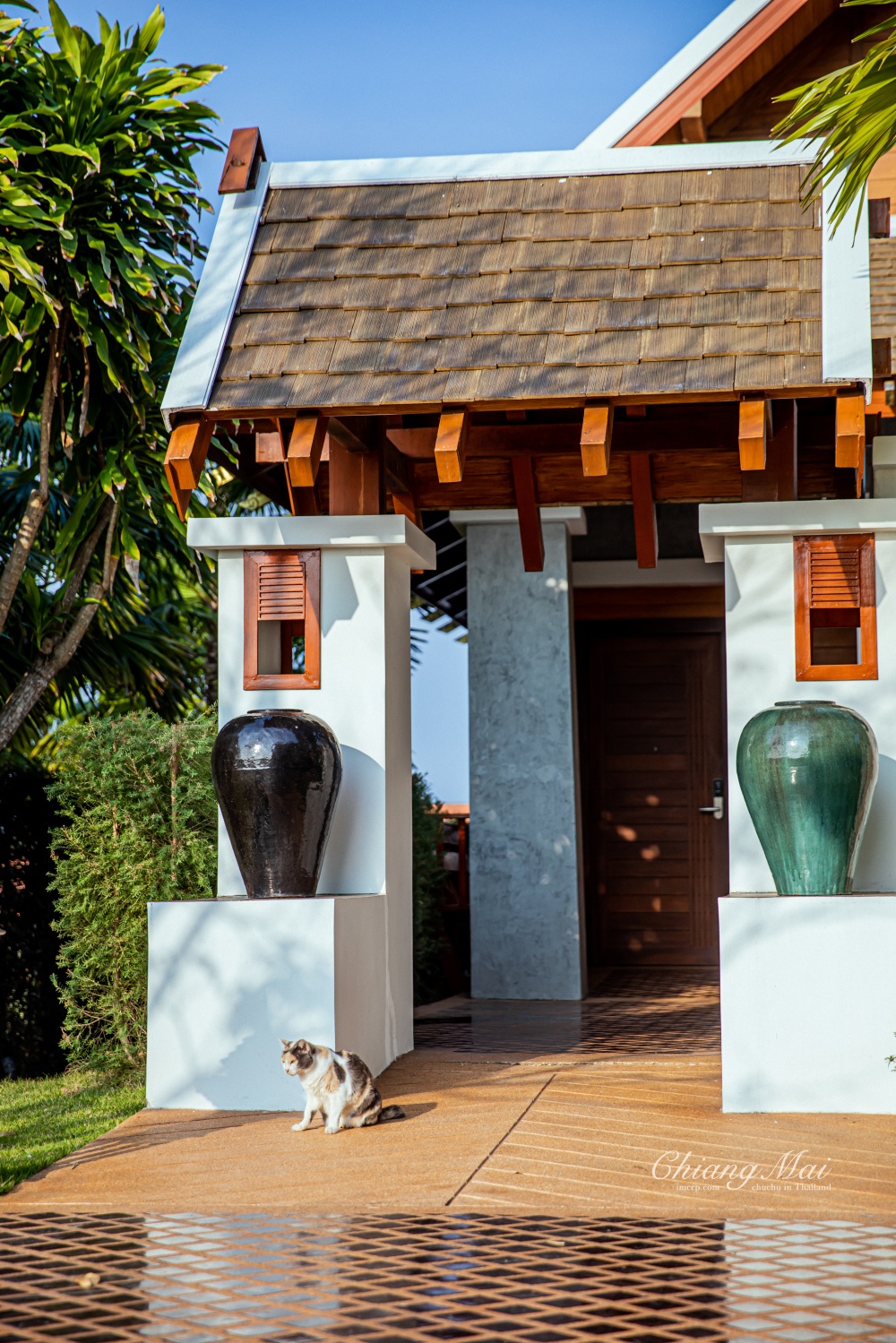 The resort's grounds are quite extensive, and I highly recommend that guests explore by riding bicycles. Right at the entrance of the lobby, there's a row of bicycles available for free use by guests. It's quite surprising to have a resort that allows you to experience the countryside feel of cycling through the fields. I believe this is one of the unique aspects that sets it apart from urban and suburban settings.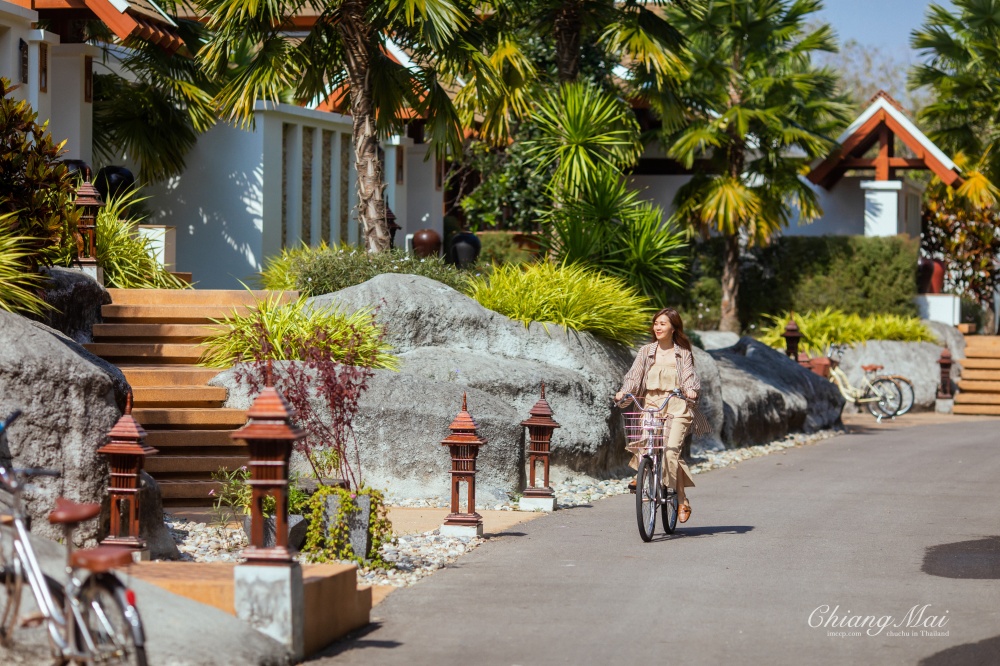 You can venture to the end of every path on your bicycle, and perhaps each visit to the resort will bring new surprises and discoveries.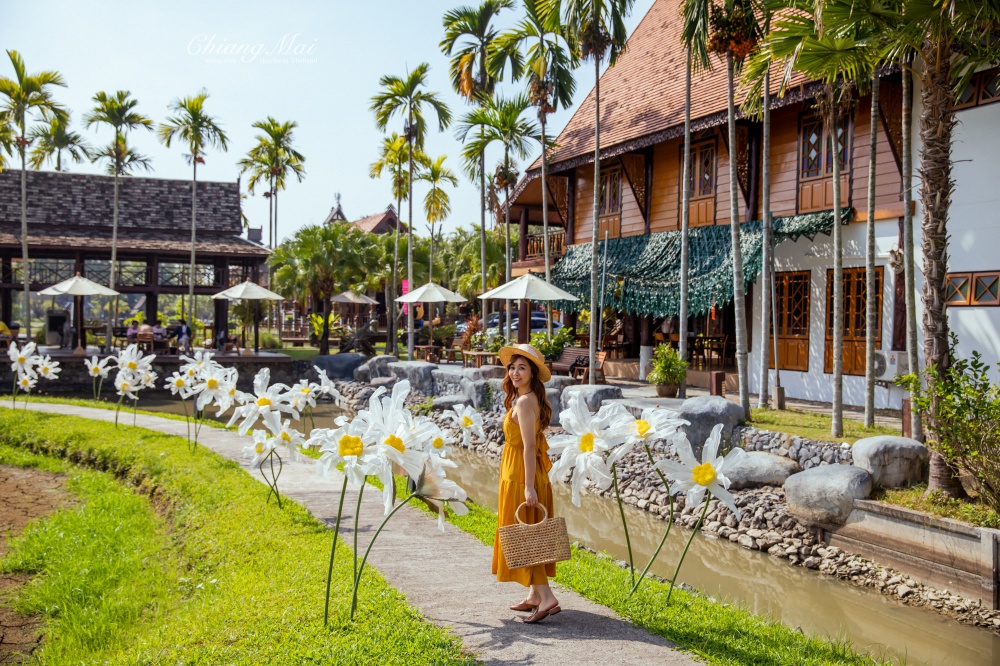 What surprised me the most were these incredibly adorable kittens! There were a total of four, each with different colors. They were all so tiny that you could easily hold them in one hand, and they were incredibly friendly. Whenever we approached, they would run over, asking for pets. They would even lie down comfortably, exposing their belly, waiting for us to pet them. Awww, they were unbelievably cute!
It was my first time seeing cats climb trees, and they were surprisingly fast! They even came down backward, LOL!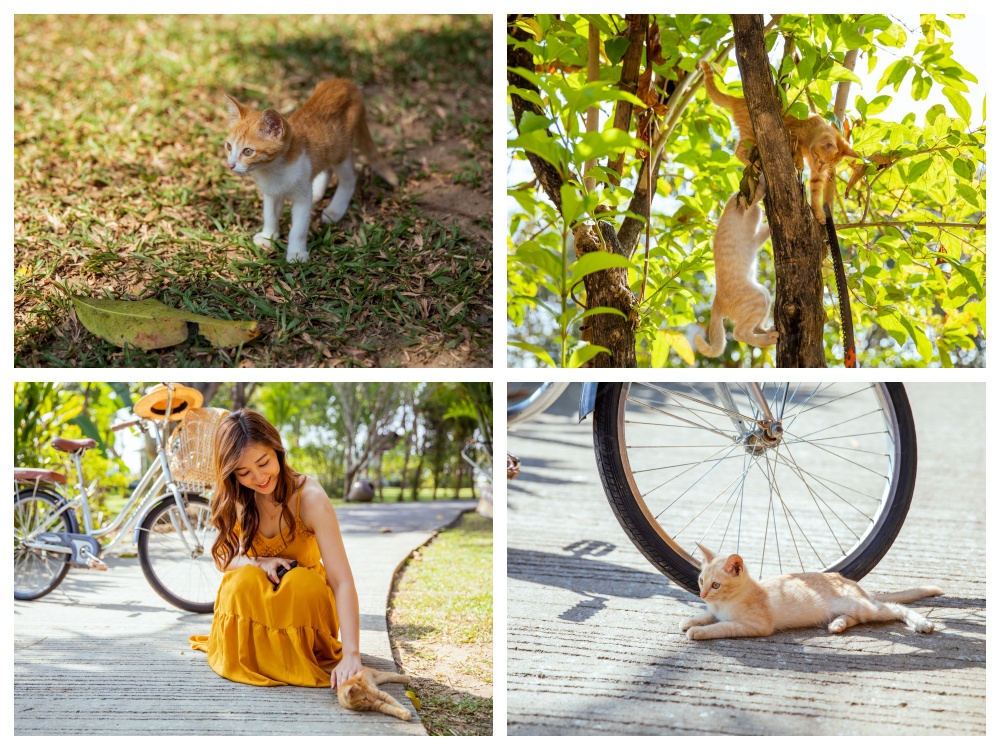 There is a charming little pavilion in the middle of the field, perfect for photos. It exudes a distinctive Chiang Mai vibe, creating a sense of closeness to nature and a serene atmosphere, making it a perfect spot for relaxation.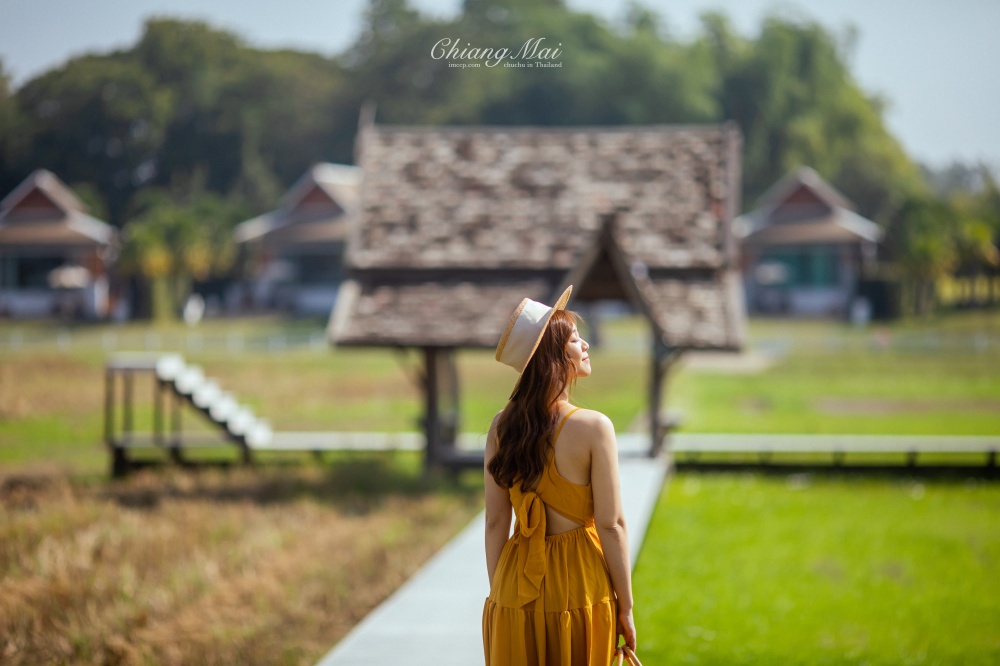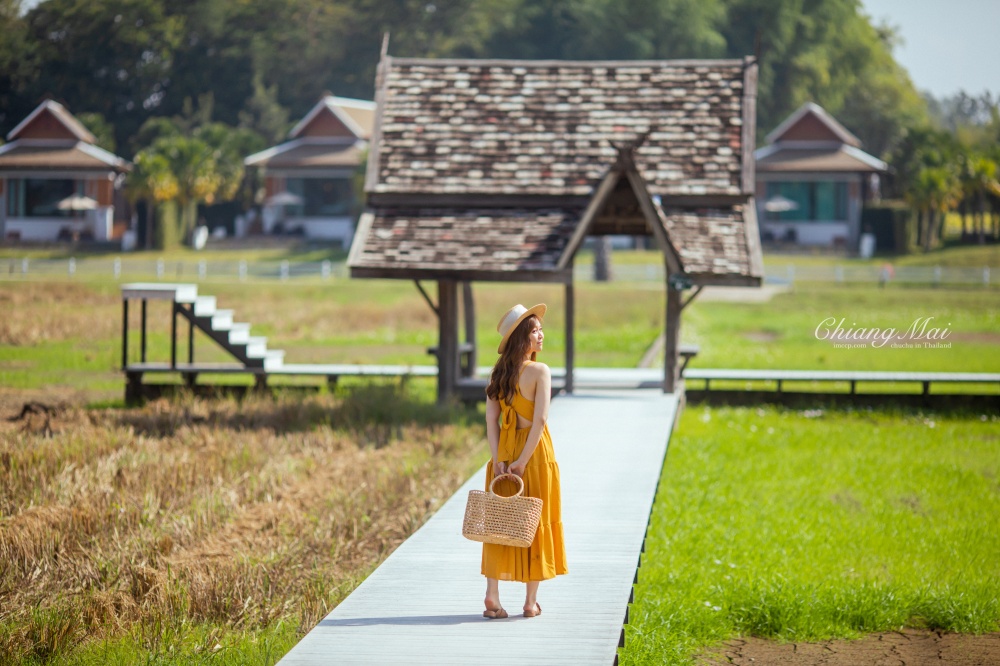 I went for a stroll around Nimman Road in the afternoon, and when I returned to my room to get ready for dinner, I witnessed a breathtaking evening sky. I truly adore the gradient change from blue to black, and from orange to red. Seeing this beautiful sight at the resort gave me the real sense of relaxation and the feeling of being away on a vacation abroad.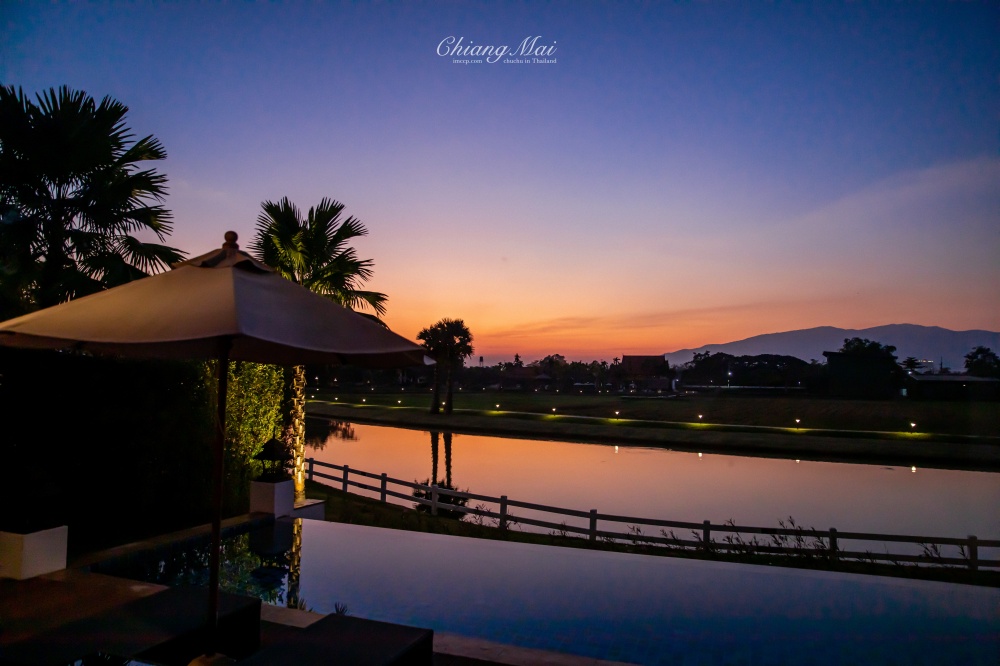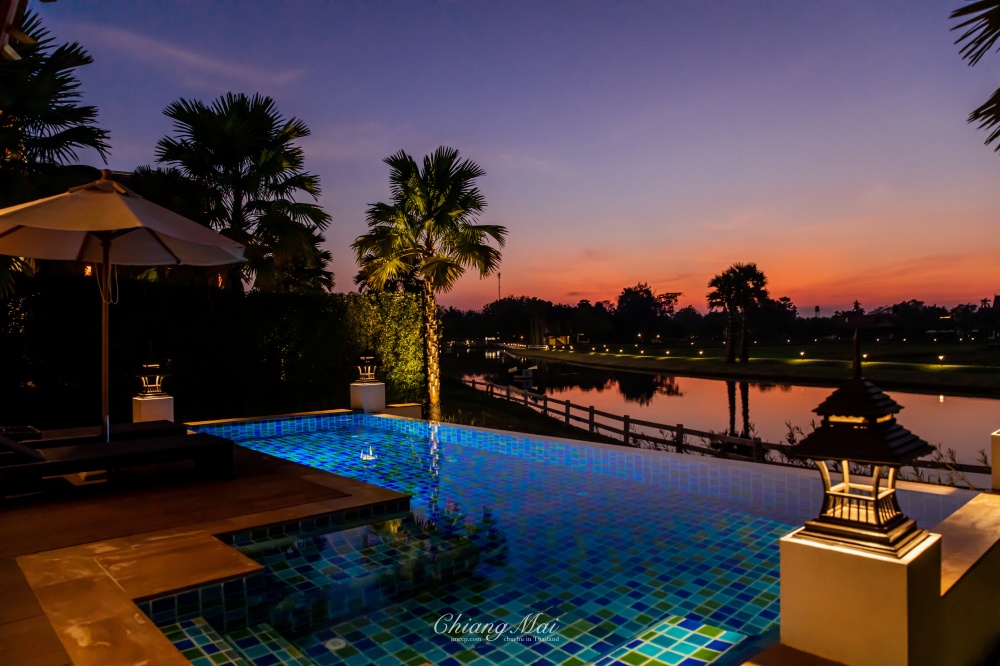 Chiang Mai Thantara Dinner BBQ
The resort has only one restaurant that offers both Western-style lunch and dinner as well as alcoholic beverages. The pasta is quite good, but the pan-fried salmon had a slight frozen taste (It is understandable using frozen ingredients, because here aren't many guests.) The Caesar salad is well-seasoned. The only downside is the incredibly slow service – perhaps because we were the only guests at the restaurant, and it was already past the regular dining hours. The kitchen might have taken more time to prepare the food. For us, who are incredibly hungry, it's truly agonizing.
However, after sipping on a glass of watermelon juice, it reminded us of the taste of Thailand, and suddenly everything felt much happier!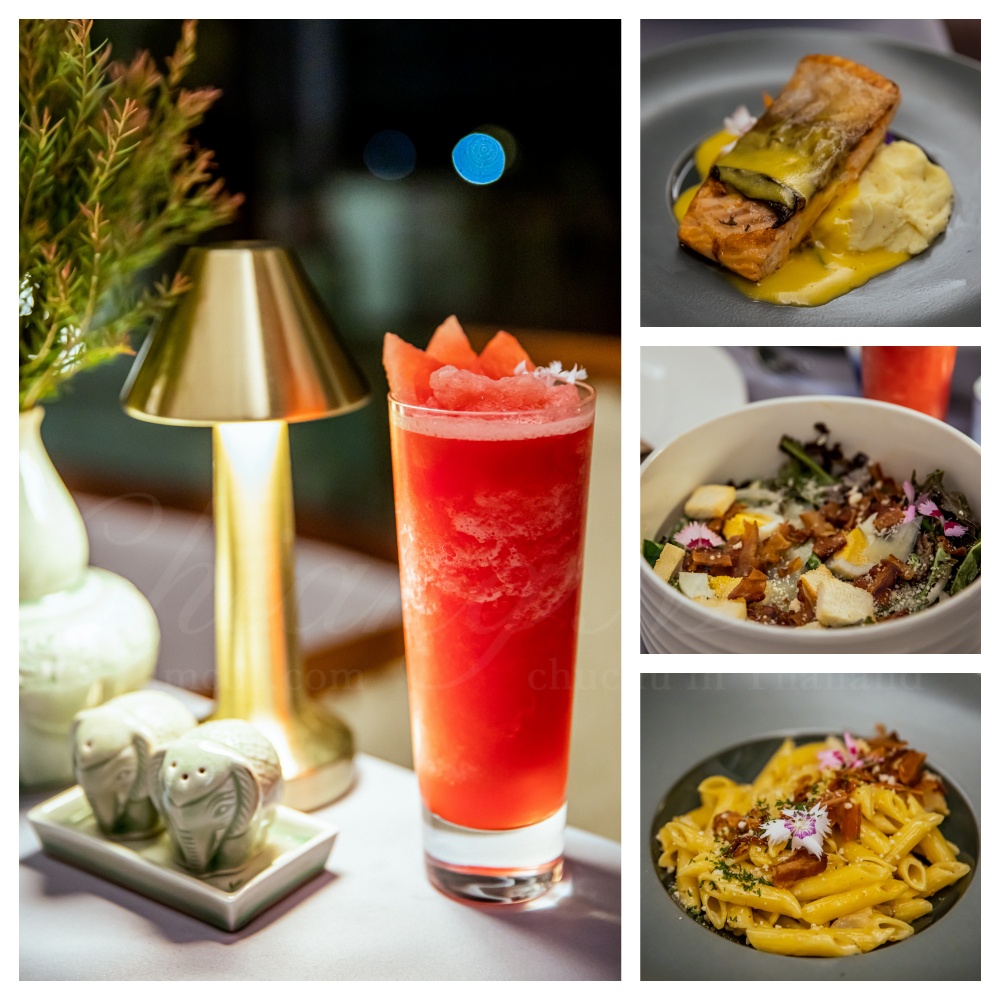 For dinner, you can choose to have a BBQ by the poolside of your room or at the outdoor seating area of the restaurant. When we saw this lawn with string lights, we instantly decided to have the BBQ outdoors. It was incredibly comfortable and enjoyable!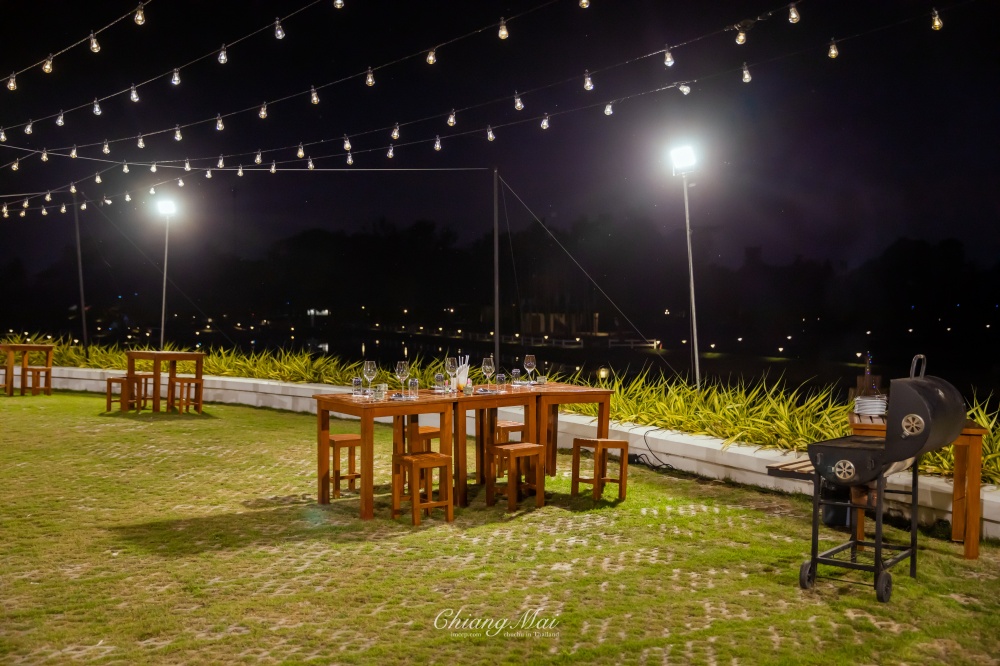 The BBQ options include sets for two people and four people, allowing you to choose according to the number of guests and your appetite. The sets include a variety of meats, vegetables, and seafood, with each skewer paired with fruits. I personally enjoyed it a lot! Grilled tomatoes and pineapples were particularly delicious. The sets also come with an additional plate of fruits. Thai papaya, watermelon, and grapes are so sweet and delicious.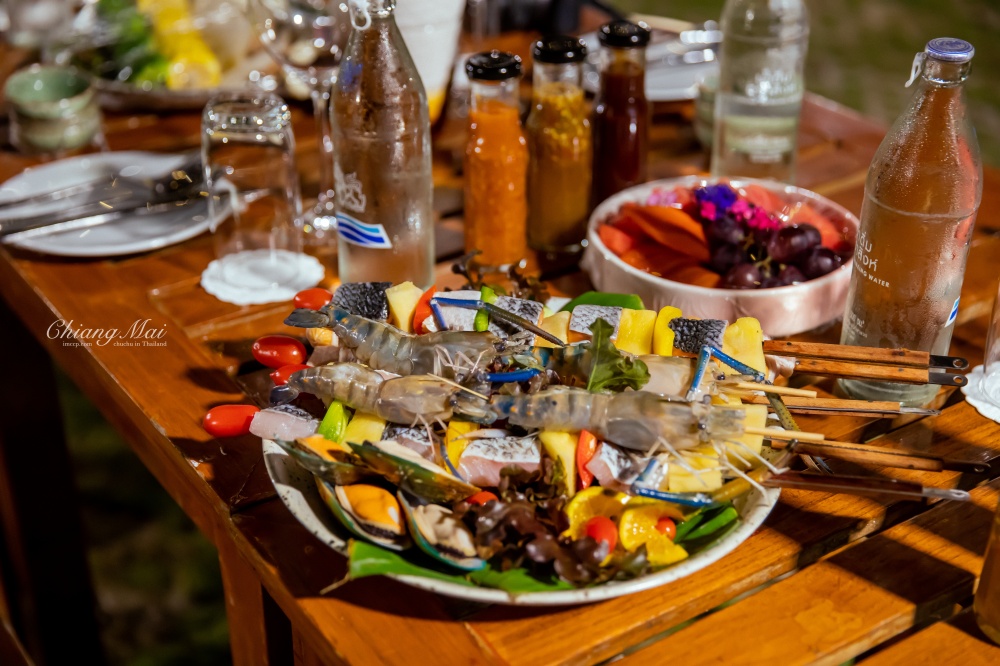 I initially thought the hotel staff would help with the grilling, but it turned out they didn't, haha! BBQ parties are all about having fun together – grilling, eating, and chatting. The joyful atmosphere of everyone taking turns grilling is indeed perfect for family vacations or a group of friends hanging out!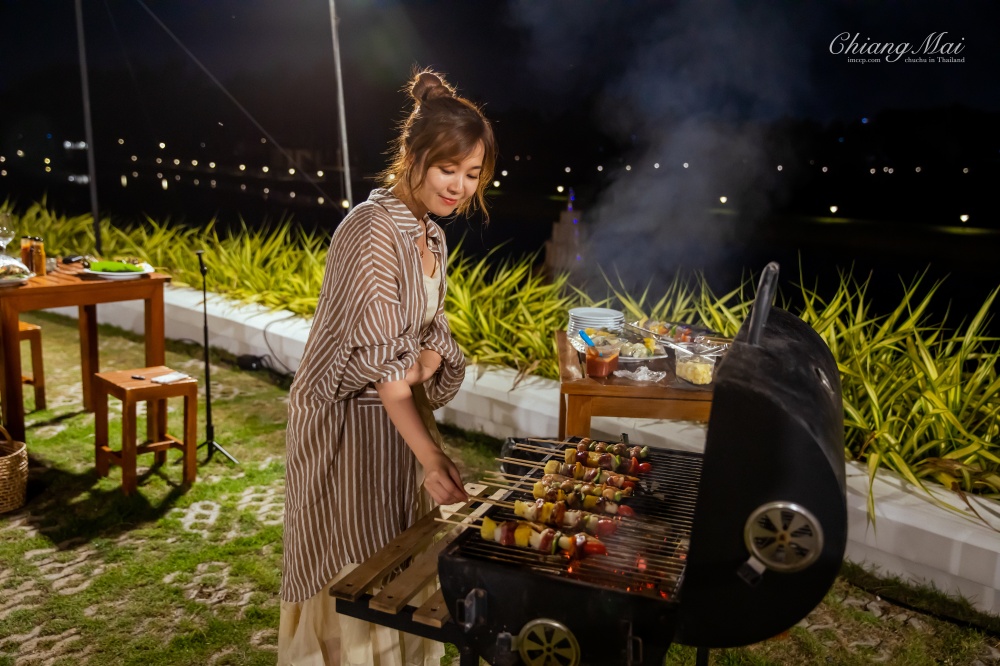 The ingredients are all prepared plain, and they provide BBQ sauce and dipping sauces for everyone to use. This way, it can cater to different preferences and taste. Once everything is grilled, you can choose your own sauces to dip, which is a pretty nice way to enjoy the BBQ!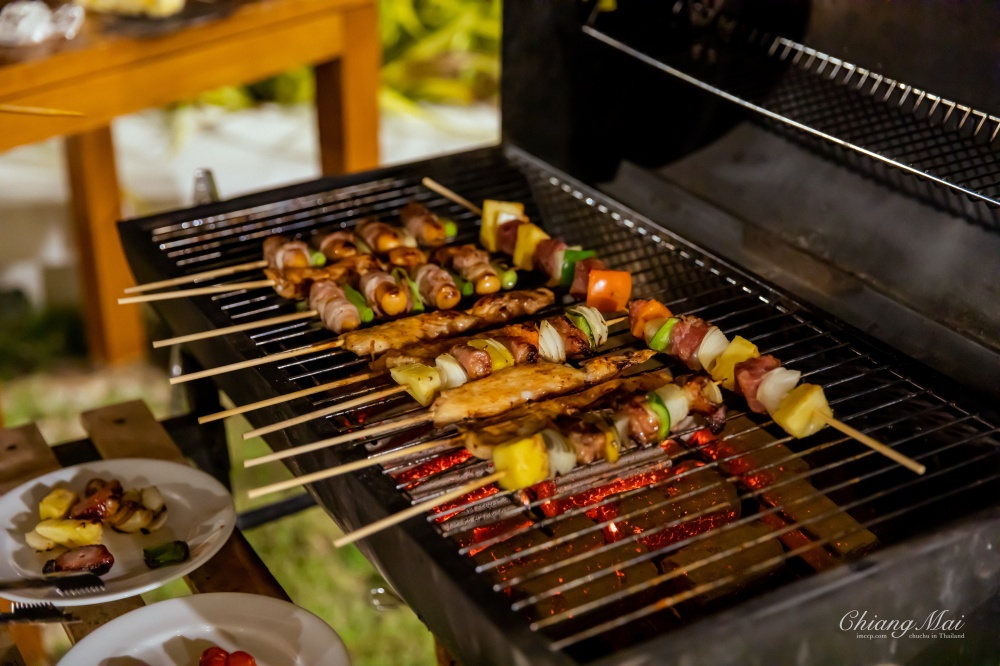 Chiang Mai Thantara Breakfast
Breakfast at Thantara Resort Chiangmai is served buffet-style from 07:00 to 10:00. The options are limited and include basic items such as bread, salad, hot dishes, fruits, juice, and milk. I haven't been having breakfast for a long time, so I don't usually feel hungry in the mornings. Having the opportunity to enjoy breakfast while traveling abroad is like experiencing a different lifestyle for us.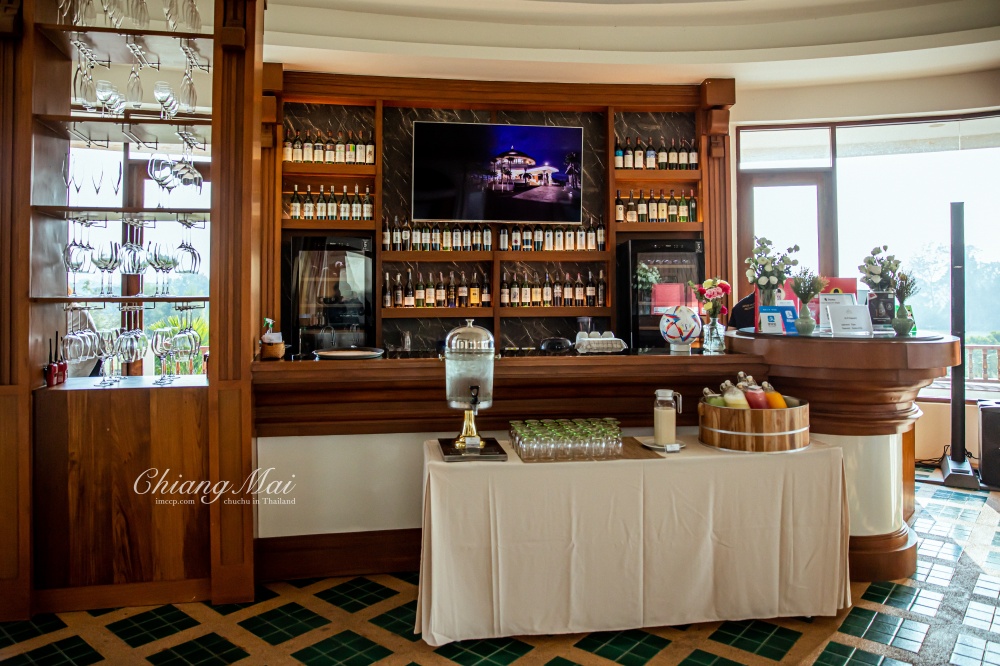 The variety of dishes may not be extensive, but you can still fill up a table haha! There's a cute mini egg station where they prepare made-to-order egg dishes. Whether you want fried eggs, omelettes, or scrambled eggs, they can make them for you right away.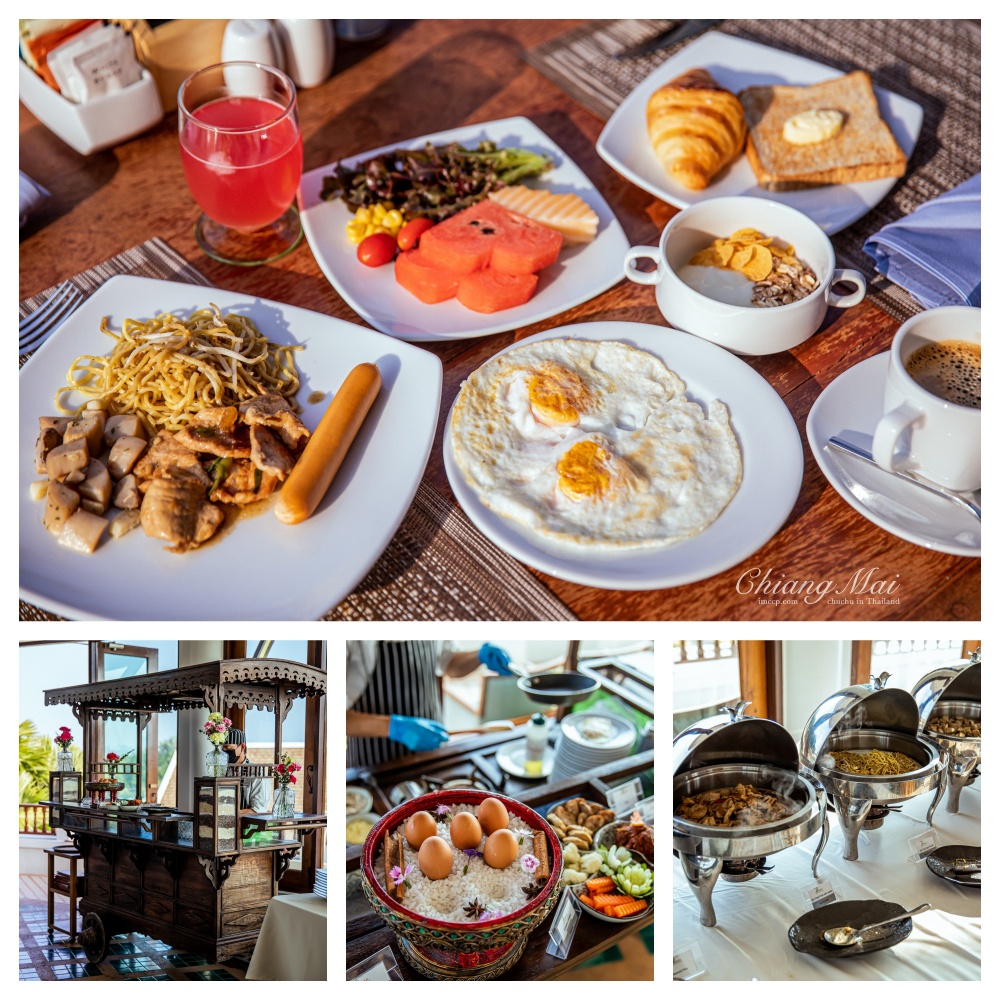 The restaurant seating has a sweet donut-shaped layout, with both indoor and outdoor areas forming a complete circle. You can freely choose where to sit, and each side offers a different view.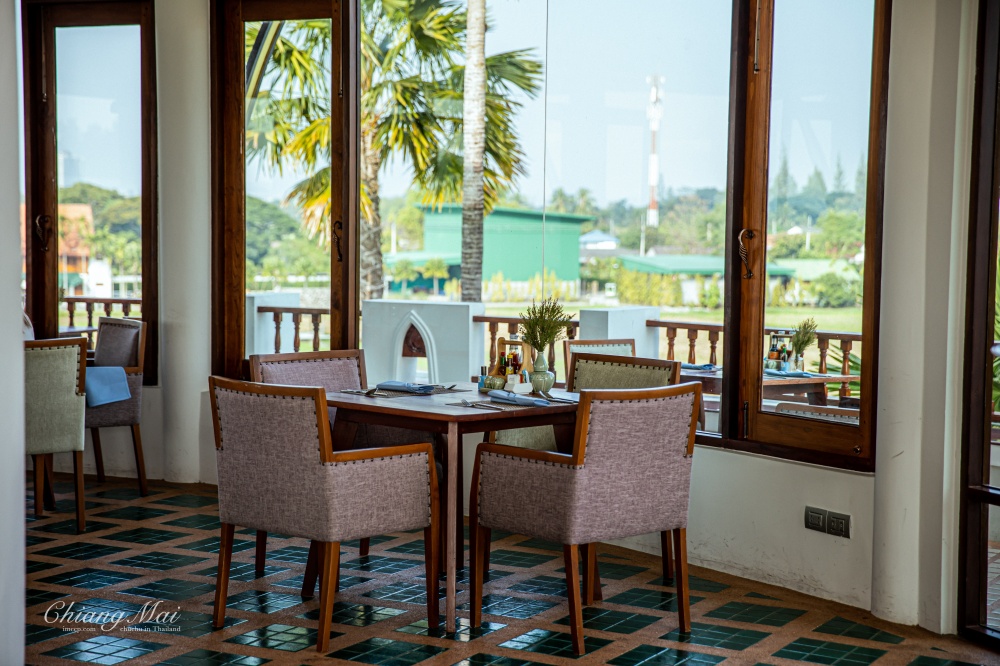 It's been a while since I enjoyed having breakfast under the sun. I only feel like doing this when I'm abroad. I guess I've been feeling quite suffocated by the rainy days in Taipei. The warm winter sunshine in Chiang Mai feels especially comforting.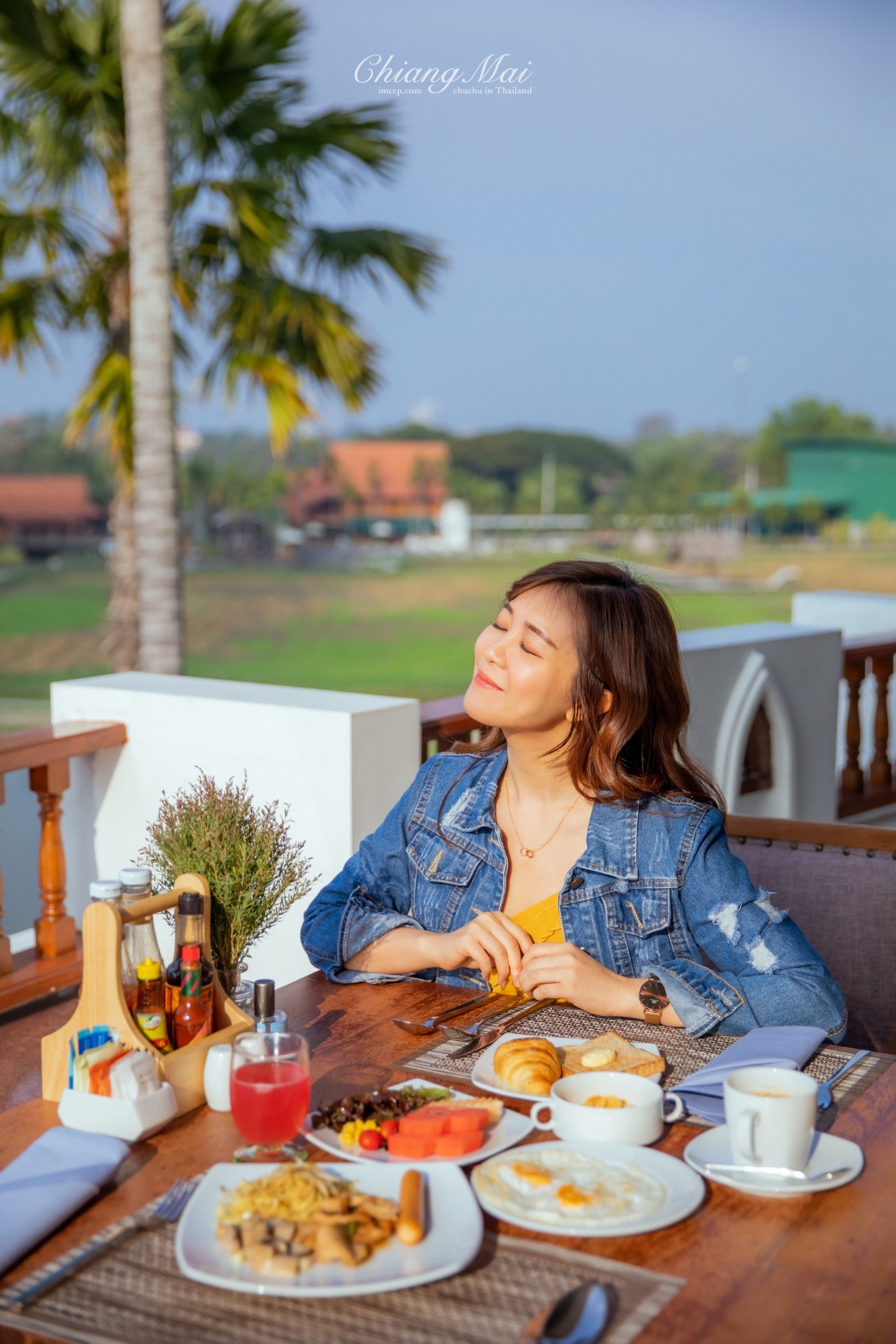 Upon checking out, you can ask the reception to arrange a golf cart to assist with taking you and your luggage to the gate. If you need a ride, you can download Grab.
If you ask the hotel for assistance, they also use Grab to book a ride for you. However, I feel more at ease when I call myself because I can check the driver's information.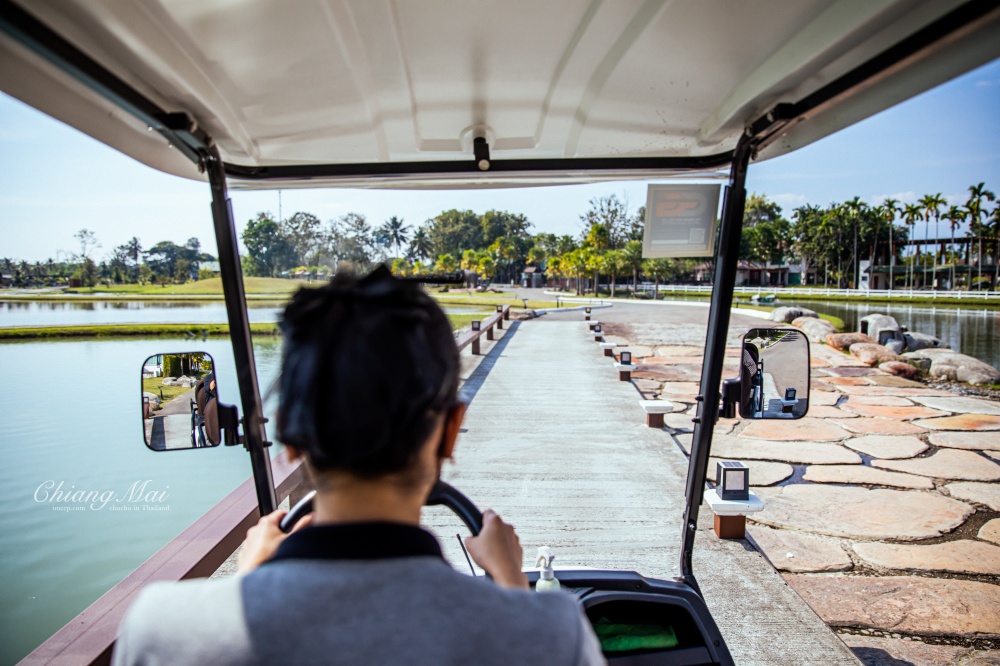 Thantara Resort Chiangmai
Adress:123/4 Moo 1, San Klang, San Kamphaeng, Chiang Mai 50130 Thailand